Summary
iPad screen won't turn on after holding on power button for almost a few minutes, apart from the worthless of the battery, iOS system problem is one common factor, according to the causing to get the suitable solution from the article below.
All apple products with iOS system can be crashed by the system bug, iPad won't turn on is one common phenomenon for iOS system problem. Take a action to solve the problem is necessary, search the solution according to the cause from article below: hardware or software problem can both make that iPad won't turn on.
Part 1: Why Won't My iPad Turn On
Hardware and software problem can make iPad won't come on, check which leads to iPad issue, get the related solution to fix iPad won't start issue.
No Power
Firstly, when iPad won't turn on, plug iPad in socket to check the power of iPad, if iPad weak up after a few seconds, charge iPad and then turn it on. But when you unplug iPad, iPad won't turn on again, it means that the battery is useless, replace one new battery from apple service. This always appears on old iPad.
Hardware Damage
If your iPad have dropped or water damaged, hardware damaged of iPad can't be fixed by EelPhone OSFixit. Take it to apple service to change the components on iPad, but if hardware is severely damaged, it's chance to buy one new iPad.
iOS System Crash
When apple release new iOS version, apple users are recommended to update to the latest iOS version, so many users' iPad was crashed by iOS system bug, you should use the EelPhone OSFixit to fix it.
Attack on Purpose
Hacker always use the virtual virus to attack your hand phone by sending you one unknown link, if you click on the link, your iPad will be crashed, if iPad won't start, use EelPhone OSFixit to repair your iPad immediately.
We can't list all causes of the issue, but if it's iOS system problem, EelPhone OSFixit is the best choice to fix iPad won't turn on without losing data.
Part 2: How to Fix iPad Screen Won't Turn on Without Losing Data
EelPhone OSFixit
is one tool to fix iOS system problem, the standard mode on the tool can even fix iPad won't turn on without data loss after the process.
Step 1:
Download
EelPhone OSFixit
on computer, from the main page of the fixer, use the
Standard Mode
at first of all, because only standard mode can fix iPad system issues without losing data.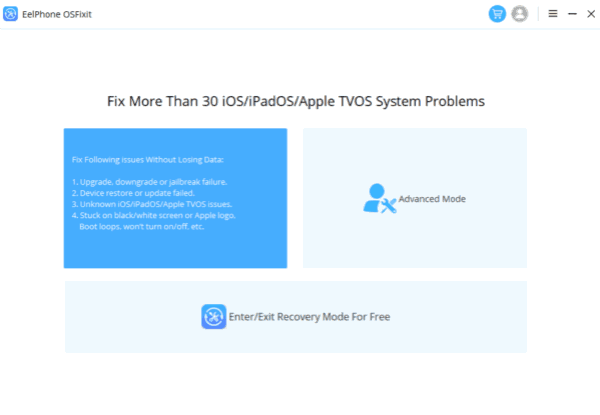 Step 2:
Plug iPad to computer, once connected the tool, check the iOS system version from the fixer, which will download the corresponding iPSW data package, so the iOS version is important.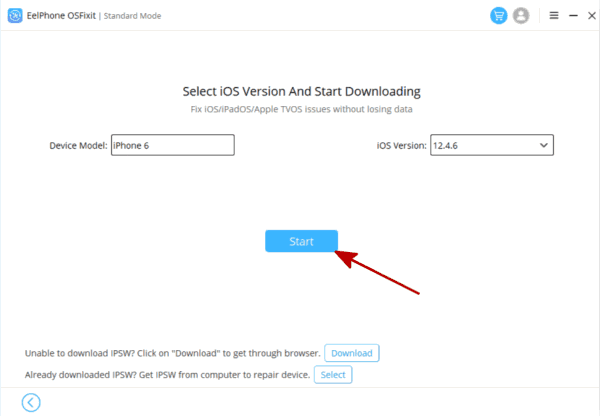 Step 3:
The tool will unpack the ipsw data package automatically, click on Repair Now to fix iPad won't turn on at last, all is for the last step, so be patient and keep connection.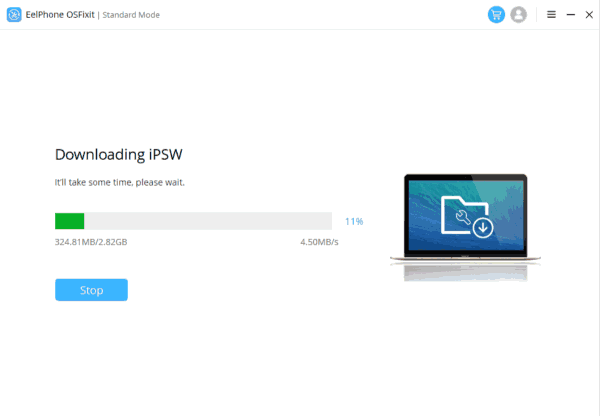 The whole process takes a few minutes only, it's easy if you follow the guide on the tool. If standard mode still can't fix iPad won't turn on issue, only advanced mode does, but advanced mode will erase all data in iPad but with the same operation as standard mode.
Part 3: How to Fix iPad Won't Power on For Free But Data Loss
If your iPad won't turn on, it's difficult to link iPad to iTunes, but you can have a try.
Note: all data loss after the process, you can restore from iTunes backup file to restore lost iPad data.
Press and hold on Power and Home buttons at the same time, release two buttons until when "connect to iTunes "logo appears on iPad. Then plug iPad to computer via use cable, launch iTunes or finder on computer, click on Restore button, you iPad will start restoring. iPad always stuck on and won't restore, try again if failed.

So, check iPad situation, choose one suitable solution to fix iPad won't turn on, follow the guide from article above.
Alex Scott
This article was updated on 29 December, 2020

Likes

Thank you for your feedback!