Summary
iPod classic won't turn on, many reasons of the issue, choose the corresponding solution from article, but if it's iOS system problem, EelPhone OSFixit is the best way to fix iPod will not turn on, even has chance to fix it without data loss with standard mode.
iPod won't turn on issue can be caused by different reasons, if it's the hardware problem, maybe you should replace some components, our EelPhone OSFixit can only fix iPod system issue,find out the causing of the issue, fix iPod won't turn on from the article tips below.
Part 1: Why Won't My iPod Turn On
Hardware problem or iOS system problem, you can check one by one from this part, then choose the right solution to fix iPod won't turn on.
Out of Power
It must be the first reason you can square up when your iPod won't turn on, charge it immediately, after a few minutes, hold on the power button on iPod to turn it on. But if iPod won't turn on either, skip to the next feature.
Out of Storage
iPod ran out of storage and won't turn on, the iPod storage is limited, don't download so many songs on iPod if the storage is nearly full, when force restart of iPod doesn't work, you should turn to the parts below to get the solution.
System Bug
It appears after iOS system update, so many system bugs with the development of iOS version, if your iPod won't turn on after being updated to new iOS version, choose the solution from below.
Virus Attack
Malicious attack will lead the debacle of iOS system, don't install unknown APP and link on iPod, it's dangerous. Also you should get the solution from article below.
Part 2: How to Fix My iPod Won't Turn on Without Losing Data
EelPhone OSFixit is the last hope which has chance to fix iPod won't turn on without losing data if it's iOS system problem. Of course you should charge iPod at first of all to check if it's the problem of iPod battery, if iPod turns on after a few seconds after charging, replace one battery of iPod is enough.
Step 1:
Download EelPhone OSFixit on PC, launch it after installation, choose
Standard Mode
at first to fix iPod won't turn on without losing data.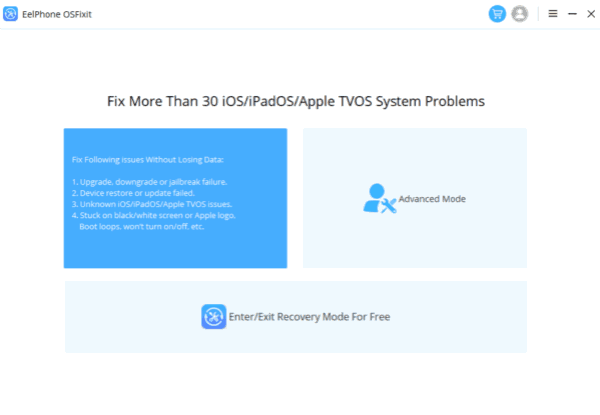 Step 2:
Use the USB cable to link iPod to the tool, once connected to EelPhone OSFixit, check the iOS version on the tool, click on
Start
button to go on.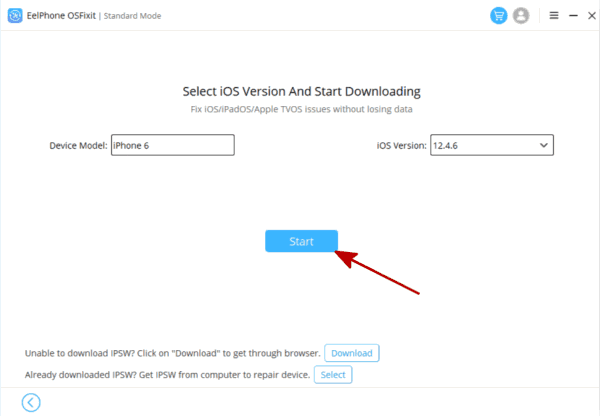 Step 3:
The tool will download the iPSW data package according to the iOS version, so make sure that it's correct.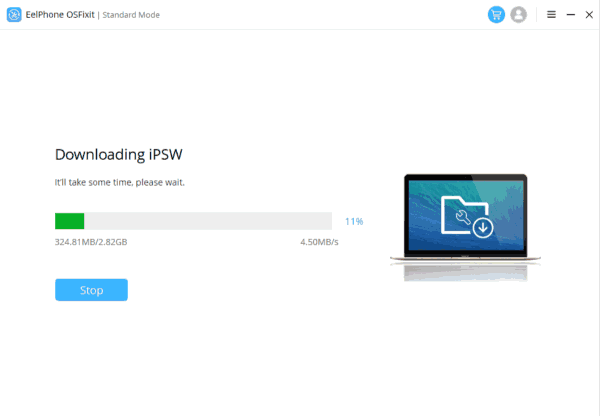 Step 4:
Click on
Repair Now
after the iPSW data package was unpacked, the process is mostly automatically.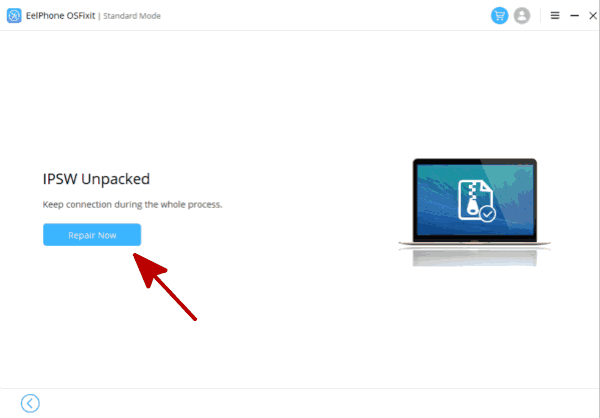 After a few minutes, your iPod will turn on as usual. In the case that standard mode can't fix iPod won't turn on, turn to advanced mode on the tool, same operation as the standard mode, but with data loss after the repair process.
Part 3: How to Fix an iPod Touch Won't Turn on For Free
With the help of iTunes, you have another free way to fix iPod won't turn on issue, but you should know that it will delete all data and settings on iPod after the restoration process, and it's difficult to link system problem iPod to iTunes, but you can have a try.
Hold on the Power and Home button on iPod touch for a few second, hold on until "connect to iTunes logo " appears on iPod, release two buttons.
Take out the USB cable, plug iPod to computer, launch iTunes or finder on computer, click on
Restore
button from popping window.
Keep connection during the whole process, be patient, after the successful process, restart iPod and set up iPod settings one more time.

If during the process, iPod stuck on apple logo and won't restore, turn to EelPhone OSFixit, only the tool can fix it.

Likes

Thank you for your feedback!