Contact Us
If you have any question, do not hesitate to contact us. E-mail: support@eelphone.com
EelPhone Center
Eelphone provides the most professional data recovery and transfer software for iOS and Android devices. Our aim is customer's satisfaction, We'll try our best to offer the best product and service. Do not hesitate to ask questions and give suggestions.
FAQ Android
1.Why the software can not scan to my Android or Samsung? Can not detect Android and Samsung device?
1. Please make sure you have downloaded the latest version of the software.
2. Keep your device USB in debug status.
3. Reconnect your USB cable.
4. Make sure that you have installed the correct driver in your PC. Here is a link to find the right driver for your device: https://developer.android.com/studio/run/oem-usb.html
5.Connect your device to the computer via a USB cable and drag down the drop-down menu. then choose the "MTP" mode or the "PTP" mode. For LG, they can only be connected in camera mode (PTP) / Send Images (PTP). Refer to the screenshot below: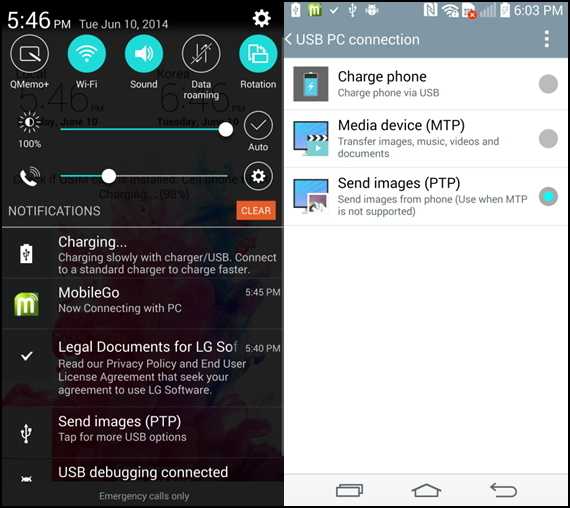 2. Recovery Data Android has blocked in 90% during the scanning and analysis, how to do?
Now, you need to root your Android phone, because for some Android phone, this software can only recover data from rooted Android phone.
3. I can not find the model of my phone in the tab"Android Data Extraction".
All fonctions are exactly same between trial version and registered version. But the trial version is only compatible with some model of Samsung.
FAQ iOS
1. Why the software does not detect my iPhone, iPad, iPod? Can not scan iPhone/iPad/iPod?
1. Install the latest iTunes version on your computer.
2. Reinstall this software on your computer.
3. Restart your computer.
2. Why I still got some abbreviated pictures and videos even if i've used iPhone Data Recovery?
The lost data on your iPhone are overwritten, so maybe you can not find the full data, but you can find them via iTunes backup or iCloud.
3. What if the program crashed or blocked during the scanning?
1. Stop and reinstall the program.
2. If possible, try to install and start this software on another computer.