Contact Us
If you have any question, do not hesitate to contact us. E-mail: support@eelphone.com
EelPhone Center
EelPhone provides the most professional data recovery and data transfer software for iOS and Android devices. We'll try our best to offer the best product and service to satisfy customer. We're waiting for your suggestions and questions.
FAQ Registration
1.I did not get my license after my purchase.
Wait a few minutes, it maybe the problem of the internet, or you can contact us immediately: support@eelphone.com, don't forget to attach the order number or the email information you have used in the email, so that we can check the registration code.
FAQ Android
1.Why the software can not scan to my Android or Samsung? Can not detect Android and Samsung device?
1. Please make sure you have downloaded the latest version of the software.
2. Keep your device USB in debug status.
3. Reconnect your USB cable.
4. Make sure that you have installed the correct driver in your PC. Here is a link to find the right driver for your device: https://developer.android.com/studio/run/oem-usb.html
5.Connect your device to the computer via a USB cable and drag down the drop-down menu. then choose the "MTP" mode or the "PTP" mode. For LG, they can only be connected in camera mode (PTP) / Send Images (PTP). Refer to the screenshot below: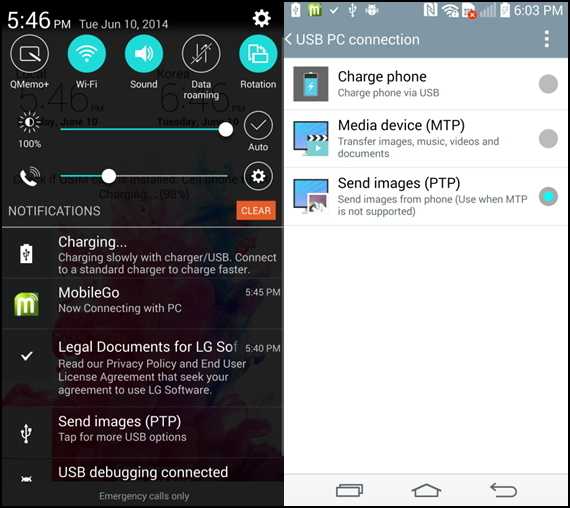 2. Recovery Data Android has blocked in 90% during the scanning and analysis, how to do?
Now, you need to root your Android phone, because for some Android phone, this software can only recover data from rooted Android phone.
3. I can not find the model of my phone in the tab"Android Data Extraction".
All fonctions are exactly same between trial version and registered version. But the trial version is only compatible with some model of Samsung.
4. I am having issues with the download that removes the Google lock off of the Android phone.
EelPhone Google Account Lock Removal has only Windows version now, no Mac version, so you should download and install it on Windows.
5. Can EelPhone Android System Repair fix my Huawei phone?
No, can not, it only works on Samsung model, fix Samsung system issues.
FAQ iOS
1. Why the software does not detect my iPhone, iPad, iPod? Can not scan iPhone/iPad/iPod?
1. Install the latest iTunes version on your computer.
2. Reinstall this software on your computer.
3. Restart your computer.
2. Why I still got some abbreviated pictures and videos even if i've used iPhone Data Recovery?
The lost data on your iPhone are overwritten, so maybe you can not find the full data, but you can find them via iTunes backup or iCloud.
3. What if the program crashed or blocked during the scanning?
1. Stop and reinstall the program.
2. If possible, try to install and start this software on another computer.
4. I can't connect iPhone/iPad to the software.
EelPhone DelPassCode or EelPhone OSFixit, when you can't link iPhone/iPad to software, put iDevice into Recovery mode or DFU mode to link iDevice to the software, the guide will appear on the tool, just follow the steps to put iDevice into recovery or DFU mode.
5. I've registered on EelPhone DelPassCode, but failed to unlock iPhone/iPad.
Method 1: Replace the data cable and try the software again.
Method 2: Uninstall iTunes on your computer and install a new iTunes from the official Apple website.
Method 3: If you still can't solve the problem using Method 1 and Method 2, follow the instructions in the image to find the file named "log" and send it to us by email. This file records this issue. Based on the problem situation, we will provide optimization software to solve the problem.
6. "An error occurred, try again later" picture appears after iPSW file being unpacked You need to repair iTunes.
64 bit Windows: https://www.apple.com/itunes/download/win64
32 bit Windows: https://www.apple.com/itunes/download/win32
If iTunes is normal, please open the log in the menu, close DelPassCode to send the log to us, our technical team will customize the software for you to fix this problem.
7. When I should use Advanced Mode on EelPhone OSFixit to repair iOS system problems.
When Standard Mode can't fix your iOS system issues, turn to advanced mode to have a try.