Summary
iPhone turned off and won't turn back on, check the power, charge the iPhone that won't turn on in the first of all, restore from iTunes if iPhone can be scanned out by iTunes, or check if Erase feather on iCloud can fix Apple phone won't turn on or not, but all data and settings will be erased then, only EelPhone OSFixit can fix iPhone won't power on without losing data.
"My iPhone won't turn on after power off, I charged it for 4 hours, and I tried to turn it on, iPhone won't start either. My cousin told me to force factory reset it, but I refused, I searched online, force factory reset iPhone will erase all data and settings on iPhone, I wondering one way which can fix iPhone shut off and won't turn on without losing data, reliable tip to recommend?"
what to do if your iPhone won't turn on? All of us would force restart it several times, but finally, doesn't work. Connect iPhone to computer, and launch iTunes, if iPhone can link to iTunes without trusting on iPhone, restore iPhone to restart iPhone, data loss and settings will be restored to factory settings. The same tool iCloud, Erase feather on iCloud.com, also data and settings loss.
The best method-EelPhone OSFixit, fix iPhone doesn't turn on without losing data, take the guide on the fixer, within steps, we can fix iPhone won't come on. Pick one best method to fix iPhone won't turn back on from below.
Part 1: Why Won't My iPhone Turn On
why won't my iPhone turn on? Same question when our iPhone stuck in the same situation. The causing of the issue are different, but in general, the following are all possibilities:
No power
It should be the first cause we can consider, when the power was used up, we should charge iPhone and then turn it on normally. Make sure that the USB cable is workable, and the charge port on iPhone is workable also, after a moment, we can turn it on.
Ran Out of Storage
When iPhone ran out of storage, you won't turn on iPhone normally. Too many photos and videos take make iPhone storage full, force restart iPhone doesn't work. Use EelPhone OSFixit to fix the issue, and free up iPhone storage after the repair process.
Dropped or Water Submerged
After having dropped or water submerged, hardware in iPhone may be damaged, hardware damage isn't the system problem, restore from iTunes or use the tool to fix iPhone won't turn on doesn't work, send it to Apple service and the professional people will disassemble it and fix hardware, maybe it's time to get a new one.
Aggressive APP
It happens when we download one new APP on iPhone when we start it, iPhone powered off and won't turn back on, most likely the problem of the APP we just downloaded with a virus or vicious assault, when the iPhone goes normal, don't download and use the APP any more.
Too Much to Work
Enable so many APPs or feathers on iPhone at the same time. iPhone doesn't have large space to work so many feathers at the same time, freeze then power off, press on the power button to turn it on, but doesn't work, get one tip from below to fix iPhone won't turn on.
Long Service Life
It's so long time that we have bought this iPhone, hardware damage because of long service life, we can make the iPhone use life longer with EelPhone OSFixit, but the most effective tip is new device, buy new one.
Part 2: Fix iPhone Will Not Turn on Without Losing Data
Without data loss, apart from force restart, another tool is
EelPhone OSFixit
, the last hope. With the guide on the tool, we can fix iPhone won't turn on at all within steps.
Step 1:
Free download EelPhone OSFixit to the computer, launch it after installation, from the home page of it, click on
Standard Mode
to fix iPhone turned off and won't turn back on without losing data.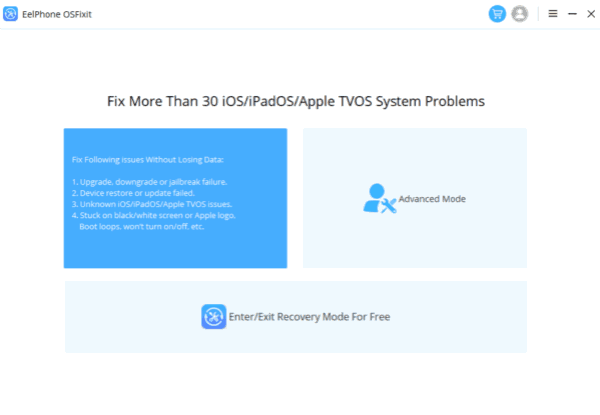 Step 2:
Connect iPhone to computer via USB cable, the tool will scan iPhone automatically, the iPhone version will Appear, recheck the click on
Start
to download iPSWfile for iPhone.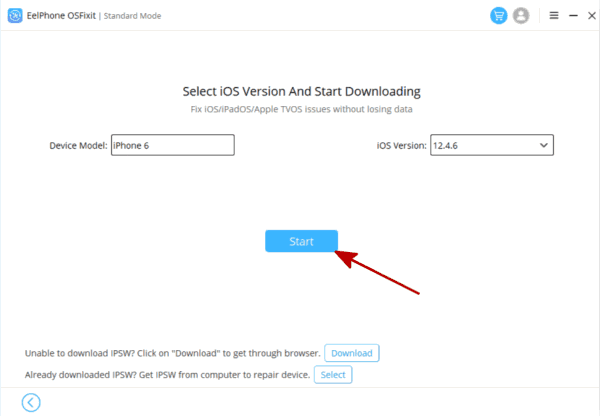 Note:
If the tool can't scan out iPhone, we should put iPhone into recovery or DFU mode to link iPhone to OSFixit.
Step 3:
Download and unpack iPSW, keep connection when the tool is downloading iPSW file.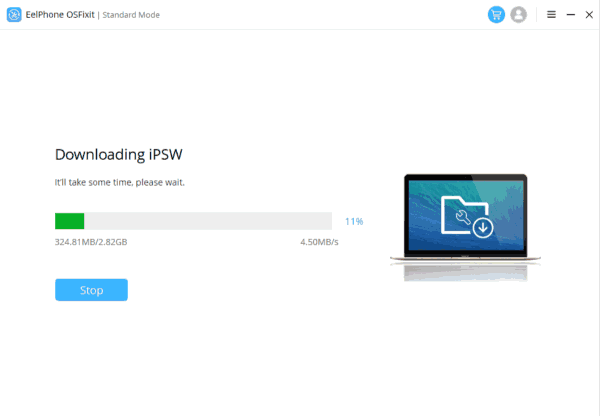 Step 4:
Repair Now button, click on it to fix iPhone that won't turn on without losing data.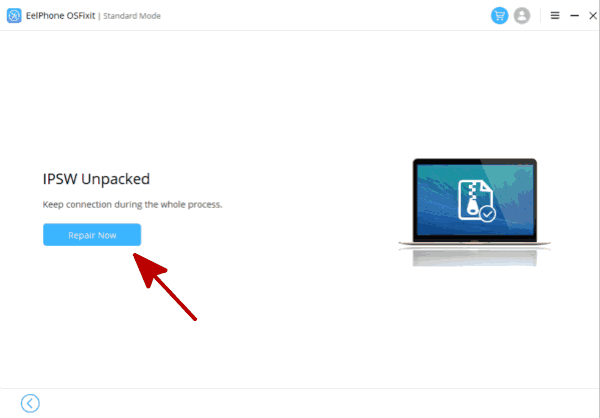 The whole process takes only a few minutes, be patient and wait. Within 4 steps that we can fix iPhone won't turn back on.
Part 3: How to Turn on an iPhone That Won't Turn On-free
Different from other ios system problems, we can't access iPhone settings, and we can't unlock iPhone by entering iPhone screen lock password, it's difficult to link iPhone to iTunes, but depends, so try the tips below to fix iPhone won't turn on with data losing.
Restore from iTunes to Fix Screen Won't Turn on iPhone
Connect iPhone to iTunes, enable iTunes on computer, wait a few seconds, and check if iPhone was linked to iTunes without Trust Computer and enter screen passcode on iPhone.
In the case that iPhone linked to iTunes, from Summary, click on Restore iPhone button, if iPhone restart itself, we have fixed iPhone not turning on at all from iTunes, all data loss, if baked up iPhone in advance, restore from the backup file to get back lost data.

iCloud.com to Fix iPhone Won't Start-Up
First of all, make sure that the find my iPhone feather on iPhone was enabled, we can try iCloud.com to fix iPhone turned off and won't turn on, all data and settings will be erased then.
Go to iCloud.com, and sign in with the APPle ID and password, find out the iPhone from All Devices, click on Erase feather, we're asked to enter iPhone password to confirm it because of all data and settings losing after the process.

Check if iPhone restart or not, it's hard to fix iPhone will not power on via iCloud, but deserve to have a try even with data loss.
Pick one tip to fix iPhone shut off and won't turn back on, with data loss but for free with iTunes or iCloud, without data loss and easy with EelPhone OSFixit.
Alex Scott
This article was updated on 30 December, 2021

Likes

Thank you for your feedback!