How to Recover Deleted Data from Mi Phone

Alex Scott,
24 February, 2021
Summary
How to recover deleted call history in mi? Restore from backup or restore from Xiaomi Cloud if you've backed up Xiaomi data in advance if deleted files were backed up to backup file. However, if the deleted files weren't stored to backup file, use the Xiaomi recovery tool-EelPhone Android Data Recovery to scan Xiaomi inner storage directly.
Xiaomi mobile is one Android phone loved by many users all over the world, Xiaomi attacks so many users by the low cost and the high performance. But Xiaomi has its own backup and restore tool-Xiaomi Cloud, pay for Xiaomi Cloud to get enough storage space to store Xiaomi data, it's a nice tool for Xiaomi users.
Of course, you can use Google Drive to backup Xiaomi data, it's also one monthly paid backup and restores tool for Android users, you can get the guide to backup and restore from Google backup file from the article below.
There are four different methods to restore deleted data on Xiaomi, but you should choose the suitable one according to the real situation.
Part 1: Redmi Note 3 Data Recovery Without Backup-EelPhone Android Data Recovery
in the event that you didn't backup deleted Xiaomi files to local backup/Xiaomi Cloud/Google account, restoring from backup file will overwritten exiting data in Xiaomi.
The inner storage of Xiaomi will store deleted files temporarily, so scanning Xiaomi inner storage is the last method to recover deleted photos in Redmi note 5 pro without backup.
EelPhone Android Data Recovery
1.All data type in Xiaomi will be scanned out
2.Works on almost all Android phone apart from Xiaomi
3.Preview all recoverable Xiaomi items before recovering
4.Easy and effective
Redmi data recovery tool is the last method to recover deleted files from Xiaomi mobile directly, follow the steps below to get the method to retrieve deleted videos from mi phone without backup.
Step 1:
Download the mi data recovery software-EelPhone Android Data Recovery to computer, windows or mac depends on your computer system, launch the mi data recovery tool after installation. From the main page, choose the righ feature according to the data type you want to restore: Apart from WeChat and WhatsApp data, click on
Recover Lost Data
to recover deleted hidden files in Redmi note 4.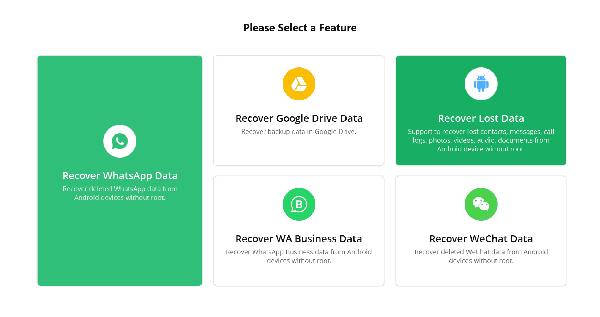 In the case that you should restore deleted WeChat or WhatsApp data, just click on
Recover WeChat Data
or
Recover WhatsApp Data
rather than Recover Lost Data.
Step 2:
Connect Xiaomi phone to computer via USB cable. You should enable USB debugging to allow the Xiaomi data recovery tool to scan Xiaomi inner storage, follow the guide on the recovery tool to enable USB debugging.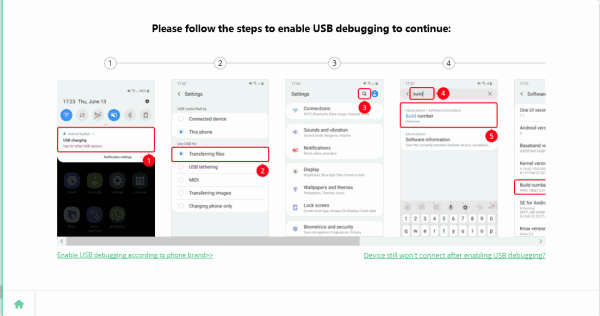 Step 3:
You can start scan Xiaomi phone only after the Xiaomi phone was linked to the Xiaomi data recovery with success, click on
Start
button to scan Xiaomi storage.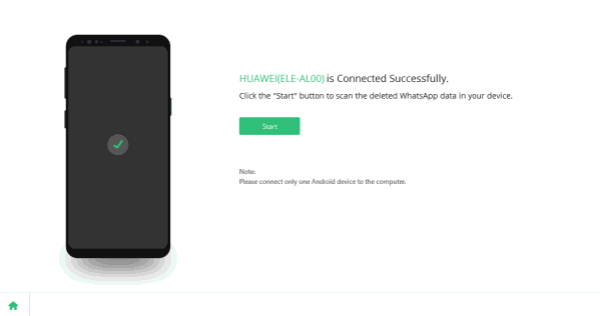 Step 4:
Select the scanning data type, less data type you selected, less time will it take to scan out the related data from Xiaomi, select the data you need to recover to save more time.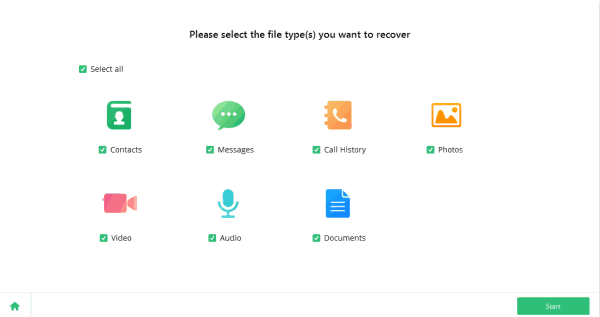 Step 5:
After a while, all data you've selected to scan will appear, you can tap on each item to have a preview, it's all recoverable files of Xiaomi, if the deleted weren't in the recoverable data list, it means that the deleted files were erased permanently, you can get it back only from backup file.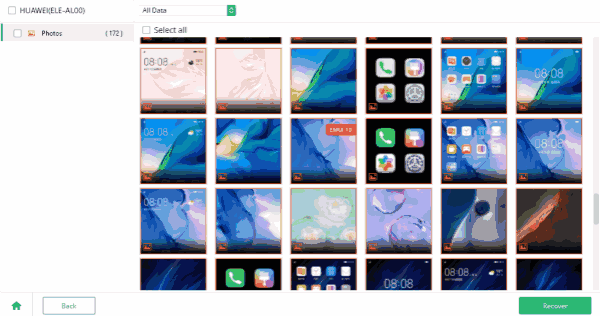 Step 6:
Click on
Recover
button to restore all selected items to computer. Define the backup folder to save all data you've selected on computer.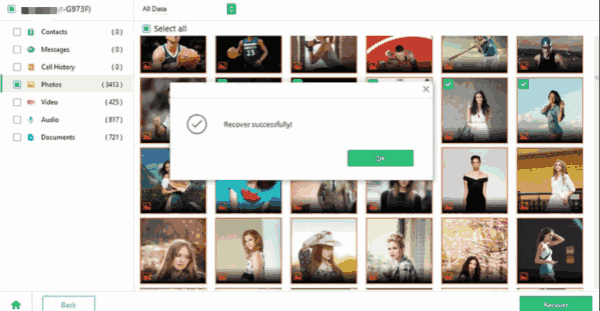 Preview and check all recoverable data from the scanning result, or you can select all to back it up to computer directly, it's also the tool to backup all data in Xiaomi phone including deleted items which better than the only backup file.
Part 2: Recover Data from Redmi note 4 Local Backup Directly
Note: the local backup saves only the Xiaomi settings, account information and apps rather than photos/videos/messages/call logs, if you want to restore deleted settings/account/app information, turn to local backup file when you've backed it up.
Xiaomi local backup is on computer, so if you backed up Xiaomi to computer, connect Xiaomi to computer one more time, find out the exact backup file from computer folder, copy the backup file to your Xiaomi directly to restore deleted files.
But for deleted Xiaomi videos/photos/messages/call logs, you should seek another method.
Part 3: How to Recover Deleted Photos in Redmi 4a from Xiaomi Cloud
Xiaomi owns Xiaomi Cloud as the backup and restore tool, for Xiaomi users, they can use the Xiaomi account and password to link Xiaomi phone to Xiaomi Cloud, store all data in Xiaomi to Xiaomi Cloud rather than save it on Xiaomi, you can save more space for Xiaomi, because you can deleted backed up data to release more space for Xiaomi.
When you would like to recover deleted data on Xiaomi from Xiaomi Cloud, turn to mi Cloud photo recovery on Settings>Additional Settings> Backup&Reset>Restore from Xiaomi Cloud, from the backup file list, choose one to restore.
Xiaomi Cloud is one charge tool for Xiaomi users, get enough space on Xiaomi Cloud in advance to store all data you want to restore to Xiaomi Cloud, make sure that Xiaomi has enough space to store data restored from Xiaomi Cloud also.
If you have the habit to back up Xiaomi data to Xiaomi Cloud, in the case that you deleted files in Xiaomi by accident, go to settings to restore deleted files from Xiaomi Cloud directly with ease.
Part 4: How to Recover Deleted Files from Redmi Note by Google Account
All Android phone can be linked to one Google account, but you should sign in one Google account to your Xiaomi phone in advance.
You can sync Xiaomi data to Google drive, prepare enough space on Google drive to store all data you want to sync to it, it's also one charged backup tool, it's another Cloud tool to backup and restore Xiaomi data.
In the moment that you want to restore deleted files on Xiaomi from Google account, go to Settings>General Settings>Backup&Reset>Google Account, choose the files you want to restore from the backup list.
It's easy to recover deleted photos/videos/text messages/call logs data from Xiaomi backup, without backup, you should the help of Xiaomi data recovery tool to scan Xiaomi phone directly, choose the suitable method to recover deleted data from Xiaomi phone.
Alex Scott
This article was updated on 24 February, 2021

Likes

Thank you for your feedback!