Summary
When we have deleted, lost, damaged the voice memos on iPhone XS / XS Max / XR / X / 8/ 7 / 6s / 6 / 5s / 5c /4S/4, we can retrieve voice memos from iTunes Backup File and from iPhone directly. The article presents detailed step to recover voice memos.
Voice memos play also an important role in iPhone data. Maybe it's the family's memory, maybe it represents the happy life of the past. How to recover deleted voice memos on iPhone? You want to retrieve voice memos from your iPhone but do not know how to do it? As far as I am concerned, you need security software to undo deleted or lost voice memos.
EelPhone iPhone Data Recovery
is a data-recovery software dedicated to iOS devices, which can run on Windows and Mac platform and support a certain degree of data recovery to the Apple devices, such as iPad, iPhone, iPod Touch, under the situation that the data has been deleted / lost / damaged or corrupted. Our software can recover many types of data which includes messages, contacts, memos, photos, videos, and even the chat records, contacts, and small videos of WeChat. With the help of iPhone Data Recovery, it's easier to recover the voice memos from your iPhone. Just with several simple clicks, then you can get your work done. So, if you want to know how to recover voice memos or any other data from your iPhone using, you should download it first. In this article, we will introduce you have two ways about how to find voice memos on iPhone.
Recover iPhone Voice Memos in 2 ways
Way 1. Recover Voice Memos from iTunes Backup File
iTunes is a free digital media player app of the Apple Crop that connects iOS devices with Mac and personal computers, which can manage and play digital music and videos for users. Through iTunes, many of the functions of iOS devices can be implemented, and the most common functions of iTunes are synchronization and backup. Since your voice memos have been backed up into iTunes so you can recover them from your iTunes backup file. Here are the instructions in detail:
Step 1.
After you have downloaded our software and installed it successfully, launch the program and then you need to connect your iPhone to your PC. The iTunes backup of your iPhone will be shown and you should select it to have a scan. Click the button "
Start
" in the right corner then your iTunes backup file will be scanned.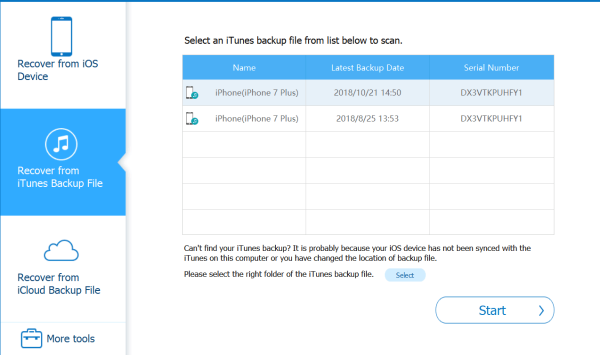 Step 2.
After being scanned in several seconds, all the data of your iPhone will be divided into different types and arranged into a clear list. Find the "
Voice Memos
" on the list of option and find out which voice memos are the ones you need. Choose them and click the "
Recover
", then they will be downloaded on your computer.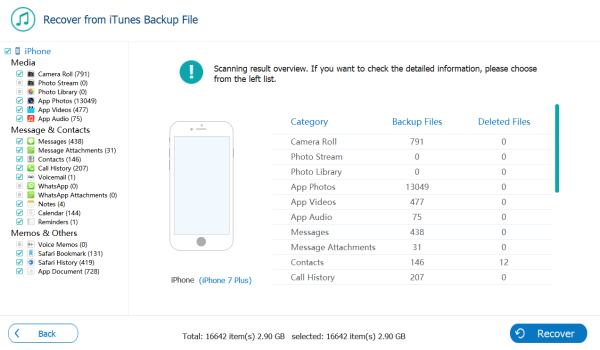 From the scanning result of iTunes backup files, select the data type from the left list, preview recoverable data, and select the voice memos one by one if only a part of voice memos should be recovered.
Of course, we can restore deleted voice memos iPhone from iTunes directly, connect iPhone to iTunes on the computer, we may enter the password before being connected to the iTunes, and from the devices on iTunes, choose the model of connected iPhone, and from the backup, click on Restore to start to undo deleted voice memos on iPhone. But if iTunes is unavailable, use the voice memos recovery tool to get back lost voice memos on iPhone.
Way 2. Recover Voice Memos from iPhone Directly
If you are not an iTunes user, you can just simply and directly restore the voice memos from your iPhone. The steps for operation are similar and I believe you can handle it easily. Let's see how to do it together.
Step 1.
Open the program and choose "
Recover from iOS Device
" on the "
iPhone Data Recovery
" interface. Then you should connect iPhone from which we will scan out deleted voice memos to PC and click the "
Start
" button to look through all the information on iPhone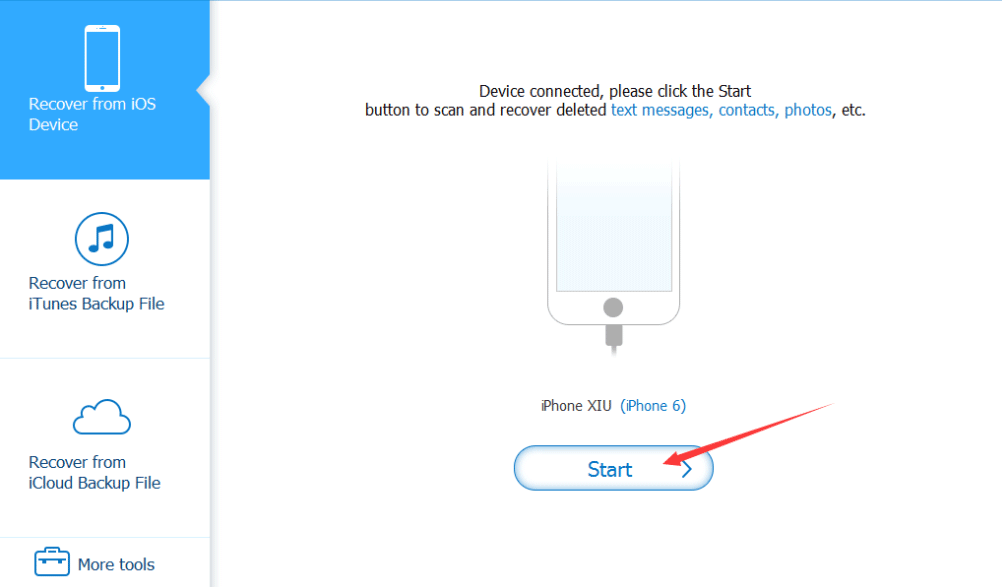 Step 2.
Waiting for the scan of your device until it is finished, the window will show you a similar list. Still, choose the "
Voice Memos
" from all data type and check all the memos to ensure that you have selected the right ones you want. Finally, a simple click to the "
Recover
".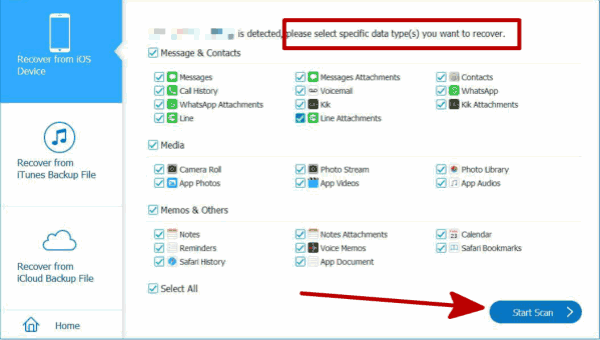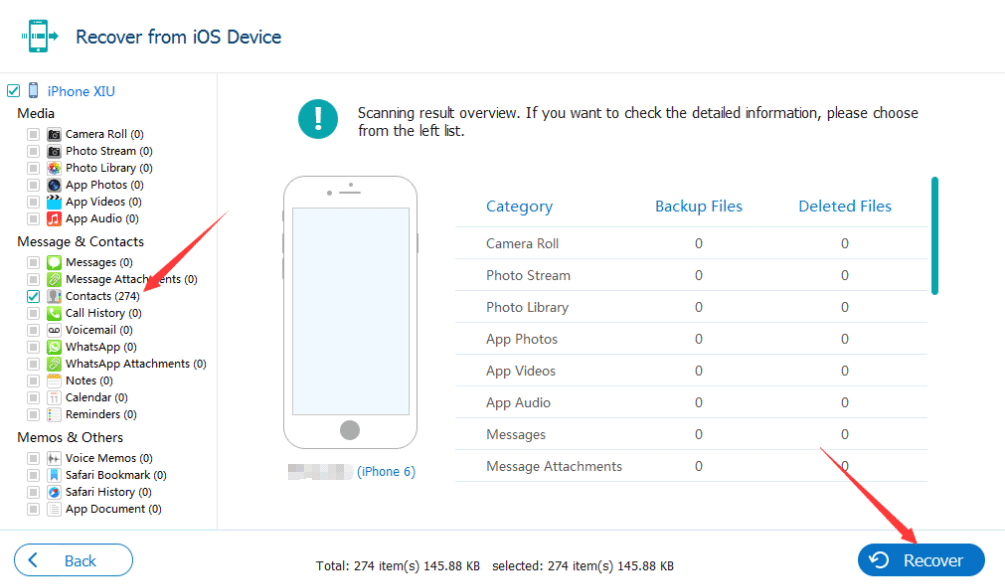 We are honored to help you retrieve your voice memos and helped you find a happy memo. The next time you encounter a problem with your mobile phone, send E-mail to us, we are always there! Not only voice memos, but also photos/contacts/SMS/call logs/videos, from the sacning result list, all recoverable data in iPhone, choose and preview, and then recover selected data in iPhone.
Alex Scott
This article was updated on 06 May, 2021

Likes

Thank you for your feedback!