Summary
Messages disappeared from iPhone 11 / XS / XS Max / XR / X / 8/ 7 / 6s / 6 / 5s / 5c / 4S / 4, where did my text messages go iPhone? And why are my text messages disappearing? How to fix missing text messages iPhone? All are in the article.
" I and my girlfriend are users of iPhone, so we use iMessage to send messages/photos/voice messages/videos for free, but yesterday I found that all data in iMessage disappeared. I confirmed that I didn't delete them in iMessage. Why did my iPhone delete all my messages? Where are my text messages? How do I get my messages back on my iPhone? These data in iMessage is very important to me, this is a commemoration for me. "
For iOS users, we can use iMessage to send photos/text messages/videos/contacts to another iOS user for free if your iOS system is upper iOS 5. So many user turn to iMessage which is more useful. And more important data saved in iMessage. But still, many guys stick to iPhone text message which is charged but we can send messages between two phones even with two different OS systems. iMessage or message, both two are important for us.
When iMessage or messages lost from iPhone, turn to your backup if you have, you can get back disa[[eared messages from backup for free. But when you can't find out missed messages from backup or you no have backup, we still have another chance to get back disappeared messages with the help of EelPhone iPhone Data Recovery.
Part 1: Why Are My Text Messages Disappearing on iPhone
"I have an iPhone 6S that is updated to the latest version of IOS 11.2.2. I was sending a text this morning and suddenly all of my texts disappeared. I can still receive some texts, but now they disappear as soon as I close the Messages App. I don't have a recent backup of my phone in the cloud or through iTunes. Can anyone help explain why this is happening and how I can recover my messages? Thanks!"
It's the Apple user, who lost text messages after updating the iOS version. It's inexplicable! But there are several possibilities of missing texts iPhone.
Deleted Text Messages by Accident
One time deleted text messages on iPhone by accident, and then returning to messages, iPhone text message forwarding missing, it's common, deleted by ourselves or family.
iPhone Messages Disappear after Restart
When iPhone frozen, bricked, dead screen, we always restart iPhone to make it normal, but also because of the force restart of iPhone, we will lose part of data in iPhone, not only text messages, but also photos and contacts.
No have more space on iPhone
When the storage space on iPhone is not enough to store more messages, iPhone text messages will disappear or invisible on iPhone.
Wrong Settings on iPhone
From settings on iPhone will make iPhone text messages disappeared.
Settings>General>Reset>Erase All Content and Settings
, when erase all contents on iPhone, text messages disappeared.
Part 2: Find Back Missing Messages on iPhone for Free
Messages in iPhone are disappearing? Be calm! You can recover lost text messages or iMessage from backup of iTunes or iCloud.
Note:
Of course, we should be sure that we have backed up all disappeared messages to iTunes or iCloud, or you have sync your iPhone to iTunes or iCloud.
Get back missing messages on iPhone from iCloud
Firstly, make sure that disappeared text messages on iPhone were backed up to iCloud. Then go to
Settings>General>Reset>Erase all Contents and Settings
, enter the password to confirm the settings. iPhone will go to restart screen, click on Restore from iCloud Backup, we should enter the Apple ID and password to sign in iCloud backup, and then choose one backup file to restore.
Note:
All data in iPhone will be replaced by the iCloud backup. And we should backup iPhone before restore from iCloud.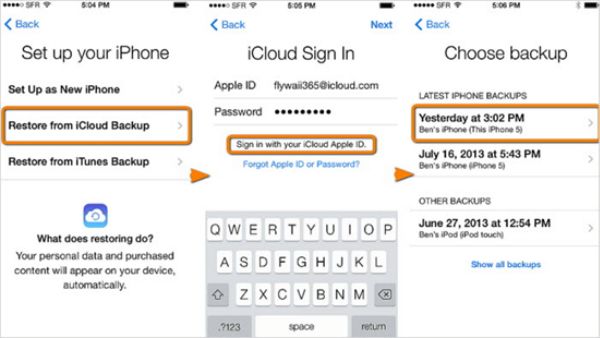 Recover lost text messages on iPhone from iTunes
Load into your iTunes in your computer, and connect your iPhone to computer at the same time, after detected your iPhone, from your iPhone, you can see backups from a summary. Tap on Restore Backup, select the backup file you want to restore. You can select the restore data type from the left side. Photos/ audios/info for your choice.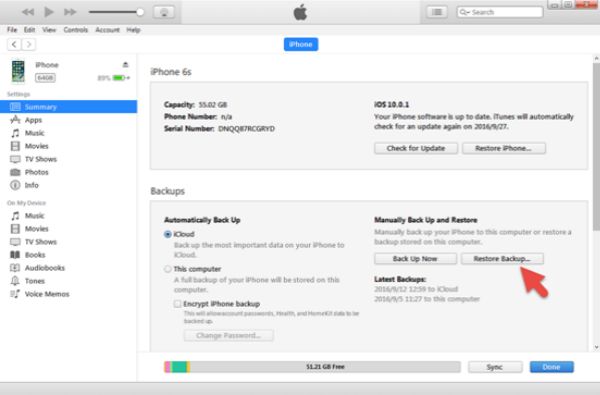 It's the way to get back up disappeared messages on iPhone for free, don't forget backup your iPhone regularly, it's a good tool for iOS users.
Part 3: Fix Messages Disappeared on iPhone Without Backup
Feel anxious when we no have backup? All text messages disappeared iPhone, messages disappeared from iphone but still in storage, With
EelPhone iPhone Data Recovery
, which can detect your iPhone deeply, all scanned out messages can be restored. And the recovering process is so easy, within clicks, we can get backup disappeared iPhone messages.
Step 1:
Free download EelPhone iPhone Data Recovery in your Window or Mac, install it with the installation guide. From the home page, click on
iPhone Data Recovery
.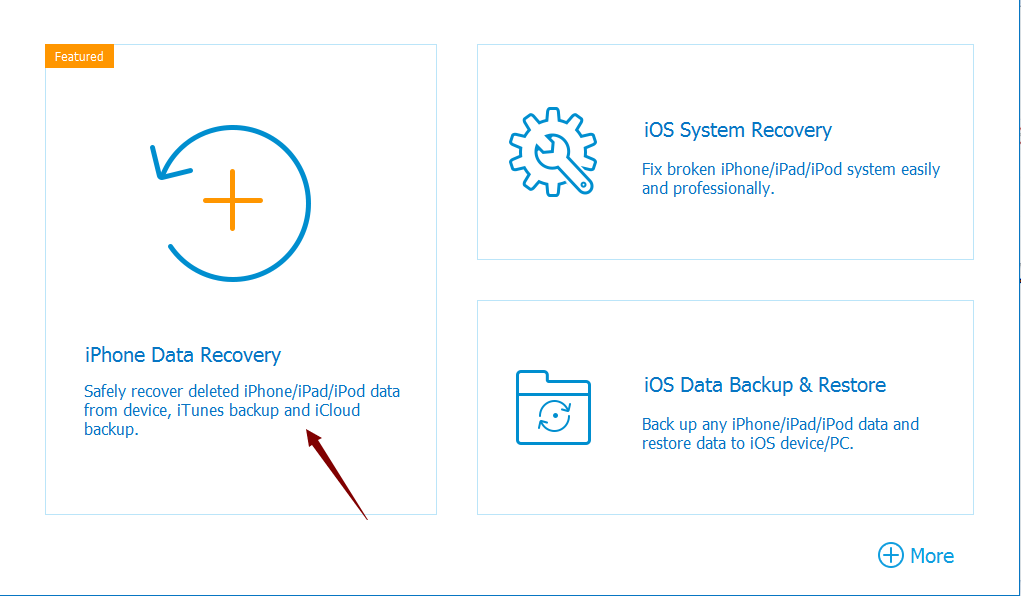 Step 2:
From the left side, you can get three ways to get back disappeared messages, tap on the first way, but if you can't restore messages from backup, you can use the tool to help you get back messages from backup. Then connect your iPhone to computer, click on
Start
to let the tool to detect your iPhone.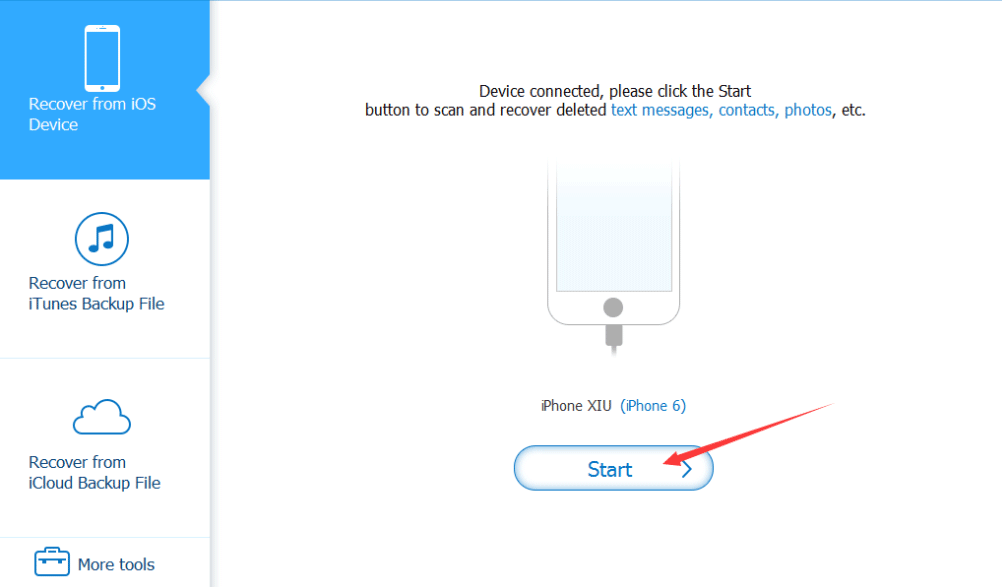 Step 3:
The tool will give the choose of recovery data type, from the data type list, what you need now is
Messages
, but if you want get back photos/videos/voice memos from iMessage, we still tap on Messages Attachment to get more data of iMessage. And click on
Scan
to start scan the data type you have selected in your iPhone.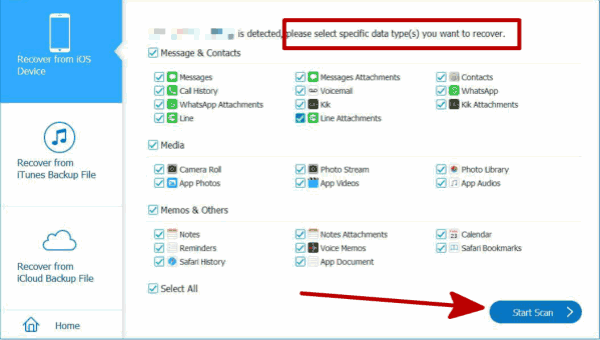 Step 4:
Just wait a moment during the process of scanning, from the scan result, reclick on the data type you want to restore form iPhone. Click on
Recover
, all disappeared messages will come back.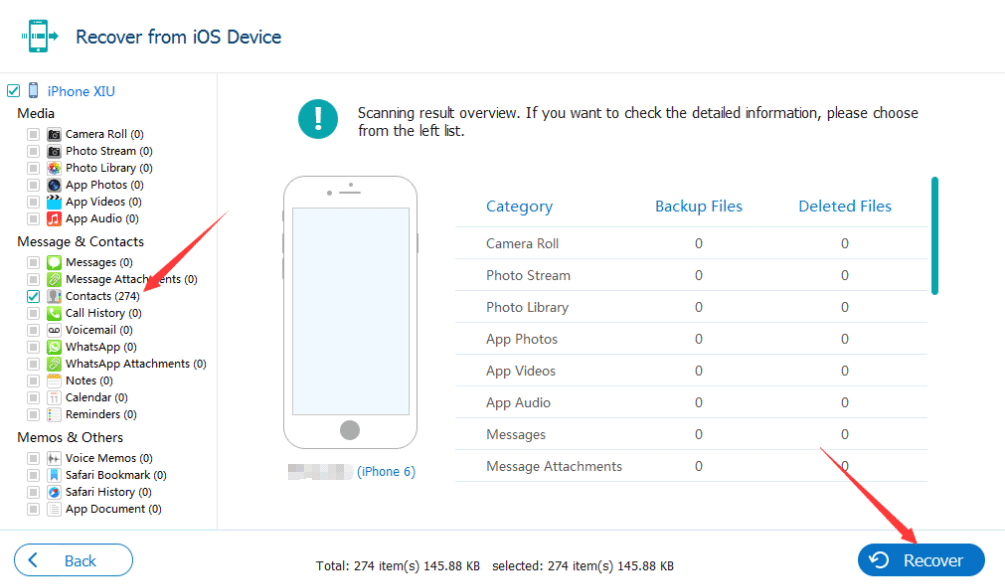 We can get back lost messages on iPhone from backup or without backup, and we recommend that backup iPhone to computer regularly, it's a good habit for all of us.
Alex Scott
This article was updated on 30 December, 2021

Likes

Thank you for your feedback!