Summary
contacts disappeared from iPhone XS / XS Max / XR / X / 8/ 7 / 6s / 6 / 5s / 5c /4S/4, when we want to get it back, iTunes and iCloud can help us restore disappeared contacts, but how to avoid the missing one more time? Find out the reason for the problem, prevent contacts from being stolen one more time.
In a certain time, iPhone contacts missing from iPhone6/7 automatically, and so many Apple users complain about the contacts missing online. How to bring back disappeared contacts on iPhone? Reach out the original reason of contacts missing iPhone, and then according to the reason, find a suitable method to fix all contacts disappeared from iPhone.
Part 1: Why Did My Contacts Disappeared on My iPhone
All problem has the source, we should find out the source and then according to the source, making the solution. Whatever iPhone version, iPhone XS / XS Max / XR / X / 8/ 7 / 6s / 6 / 5s / 5c /4S/4, new or old iPhone contacts missing in following reasons.
Reason 1: Delete from My iPhone Without Knowing
It's one reason that you can't find until this article. When we don't plan to backup contacts to iCloud, we always go to
Settings>[your name]>iCloud
, turn off contacts feather, but will pup one window to confirm the closing of contacts backup feather, in fact, this feather isn't related to the witch off contacts feather on iCloud, we just need to click on Keep On My iPhone, but if click on Delete from My iPhone, OK, all contacts disappeared then.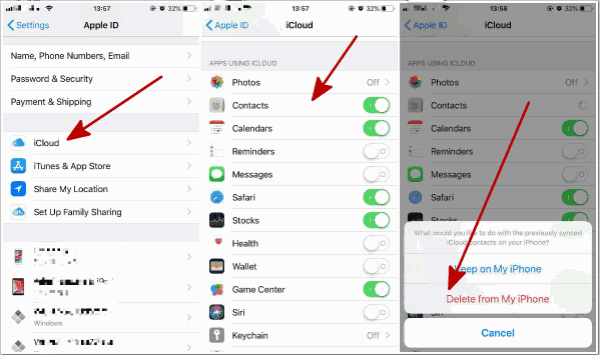 Reason 2: Use the Same Apple ID in Different iDevice
It's also one common phenomenon that we would like to use the same Apple ID on several different Apple devices, especially in one family, wife and husband, mother and son, same Apple ID used in different Apple device. That means the same contacts in different Apple device, and if one of them delete some contacts, other device contacts will disappear when iCloud is on.
In fact, it's not a smart decision, data losing and information sharing is normal, no have personal space, so we recommend to change the Apple ID, create one new Apple ID for the iPhone then find the solution to bring back disappeared contacts.
Reason 3: Delete Contacts by Accident
It's normal when iPhone was played by your little baby, they can delete the contacts without any awareness. Set one screen lock password, or put the iPhone in the place unreachable for little children. And you can bring back disappeared contacts from backup or iPhone device storage directly.
Reason 4: iOS System Problem
It's rare, contacts disappeared from iPhone after the update of ios system, it's the bug of ios system, what we can do is to get back missing contacts as soon as possible.
All-in-one, we should find one solution when iPhone contacts missing from iPhone, from part 2 and part 3, all method to get back disappeared contacts on iPhone.
Part 2: How to Bring Back Some Contacts Disappeared from iPhone [Free]
It's wise to backup iPhone contacts regularly when iPhone contacts missing names or contacts disappeared from iPhone, we can restore from backup to get back disappeared contacts.
Fix iPhone Contacts Missing Without Computer
If no have computer in hand, and so urgent to fix contacts disappeared from iPhone. We can restore contacts from iTunes/iCloud by iPhone.
We should factory reset iPhone before restoring from iTunes/iCloud, so we should be sure that missing contacts are in backup files. Go to
Settings>General>Erase All Content and Settings
.
Then the iPhone will be reset, and restart again. From the loading interface, Restore from iTunes Backup and Restore from iCloud Backup, select one, and choose the backup file disappeared contacts included.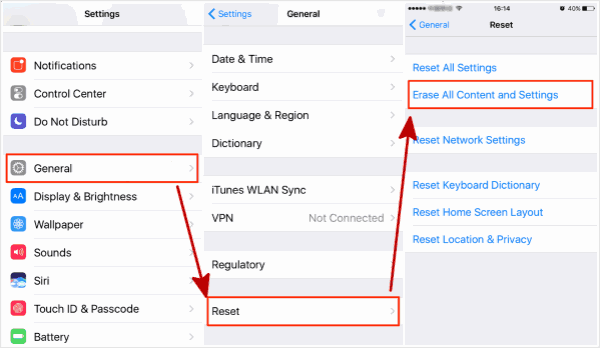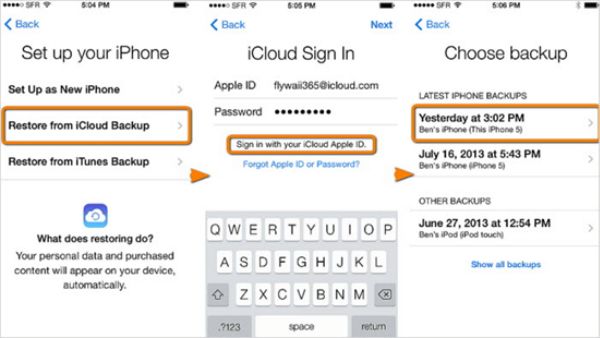 Note:
Make sure that all data backed up before restoring from iTunes/iCloud.
Fix iPhone Contacts Gone via Backup on Computer
If get back disappeared contacts from iTunes, connect iPhone and launch the iTunes on computer at the same time. Once iPhone detected by iTunes, from iPhone device Summary on iTunes, we can see Restore Backup, click on it to get back missing contacts on iPhone.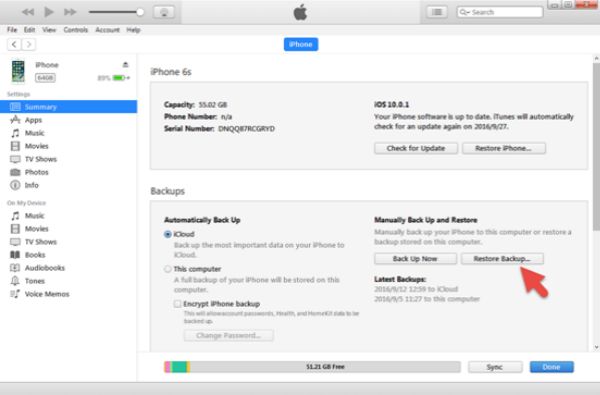 If restore from iCloud, log in iCloud.com, and sign in with Apple ID and password, of course we should connect iPhone to the iCloud at the same time so that contacts can be restored to iPhone directly rather than export to computer.
From the interface of iCloud, click on the Settings icon, we can see connected iPhone device, and at the end of the page, at the left corner, click on Restore Contacts to fix contacts disappeared from iPhone.

So, it's not a big problem when iPhone contacts gone, restore from iTunes or iCloud, and avoid the contacts missing then. But if no have backup or can't find the disappeared contacts from iPhone backup files, not a big problem either, we can turn to the third part to fix iPhone contacts disappeared, it's the updated method to solve the problem in 2019.
Part 3: How to Fix All Contacts Disappeared from iPhone Without Backup [Effective]
When contacts list has disappeared on iPhone or some contacts info missing from iPhone, and no have backup or backup is useless, we should turn to data fixer tool to get back missing contacts. Scan iPhone device storage deeply, and scan out the original contacts information.
Step 1:
Free download the fixer on PC/Mac, and launch the fixer after the installation. From the interface of the fixer, click on the feather on the left side to start to fix contact list gone from iPhone.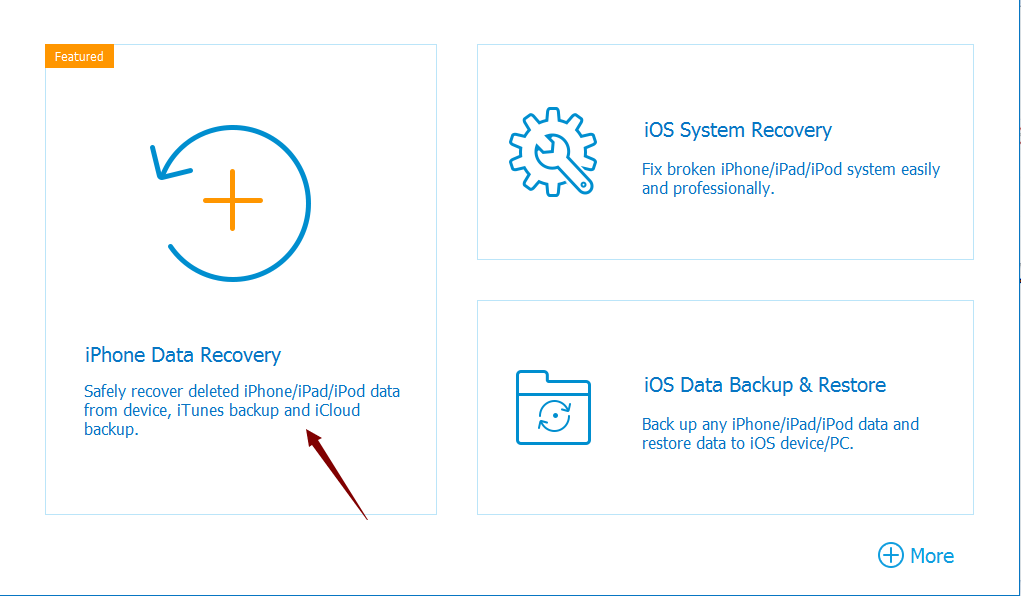 Step 2:
Connect the iPhone to the computer, and once connected to the fixer, all data type appears on the right side. Click on
Contacts
to switch to the next page.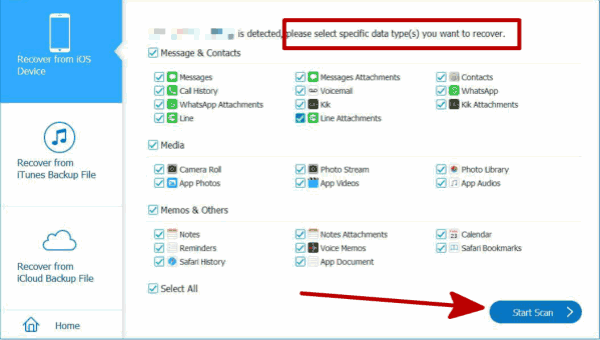 Step 3:
It's time to scan iPhone device storage, it takes a few minutes to detect the iPhone device, and after a moment, from the left side, all contacts appear, click on Contacts to preview all contacts, including disappeared contacts and existing contacts, select the contacts list we want to get back.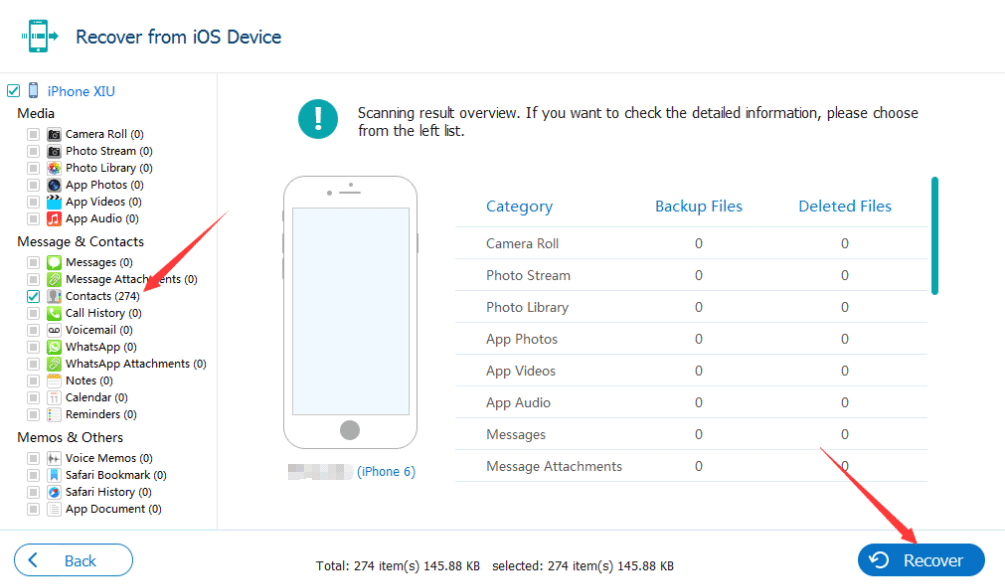 That's all feasible methods to fix contacts vanished from iPhone, choose one suitable method to get back missing contacts from iPhone. Take action to avoid iPhone contacts missing next time.
Alex Scott
This article was updated on 13 March, 2023

Likes

Thank you for your feedback!