Summary
iOS videos are stored in iPhone device storage, if backed up iPhone data to iTunes or iCloud, we can undo deleted pictures and videos from backup files to get back lost videos. iPhone Video Recovery find deleted video on iPhone directly without backup files, which scans iPhone storage directly rather than backup files. iOS 12/13 videos can be recovered in clicks.
iPhone/iPad videos, recording the Christmas/New Years' happy moment, recording the happiness moment with couple, happiness moment with family, recording the growth of children's childhood....we would like to take one video to record the unforgettable moment. But how to undelete deleted videos when deleted videos on iPhone/iPad? All tips about iPad/iPhone videos are in the guide below.
Part 1: How to Find Videos on iPhone
For new Apple device users, where are videos on iPhone? Where do downloaded videos go on iPhone? Why no have no video option on iPhone? They feel unsure about how to watch videos on iPhone.
iPhone videos are stored with iPhone photo, so we can't see apple video app on apple device interface like Apple photo. The videos were taken by the iPhone camera, or videos downloaded from the APP, or videos received from another apple device, all videos are stored at the same place of iPhone photos. Find or enjoy those videos on Apple photos APP.
Part 2: How to Find Deleted Videos on iPhone
Of course, if just deleted videos on iPhone in 30 days, go to
Photo>Deleted Recently
to restore deleted videos iPhone. The iPhone keeps deleted videos on iPhone storage for 30 days, but if deleted videos from Deleted Recently also, take the actions as below, match one suitable method to fix video missing from iPhone.
Method 1: How to Recover Deleted Videos from iPhone XS / XS Max / XR / X / 8/ 7 / 6s / 6 / 5s / 5c /4S/4 from backup
iTunes and iCloud backup tool are serving apple device if backed up iOS videos to iTunes or iCloud, go to
iTunes>Summary>Restore iPhone/iPad/Backup
, select one related backup files to restore deleted videos on iPhone. Or restore from iCloud directly, it's a well-known method to restore deleted files from backup. But when iTunes can't connect to iPhone, we don't want to set iPhone as new to get back deleted videos on iPhone. iPhone Video Recovery can also lead us to restore deleted videos on iPhone directly.
Step 1:
Free download iPhone Video Recovery on computer, and from three feathers, click on Restore from backups.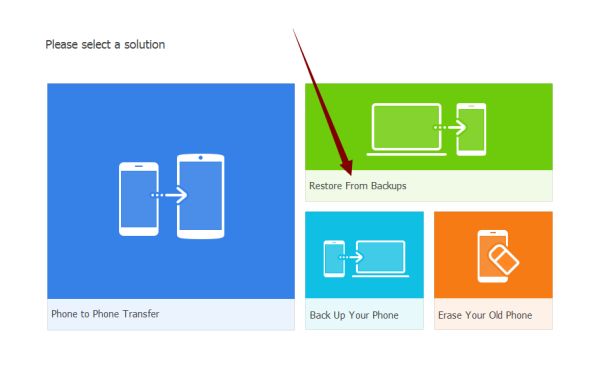 Step 2:
From all backup tool, click on iTunes or iCloud to go on.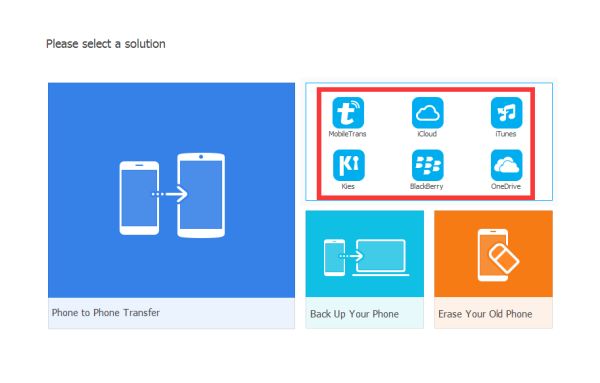 Step 3:
Connect iPhone/iPad/iPod to computer now, and the left side will appear the iTunes backup files automatically, no need of signing in iTunes; but if it's iCloud, we should sign in iCloud account and password to sign in iCloud.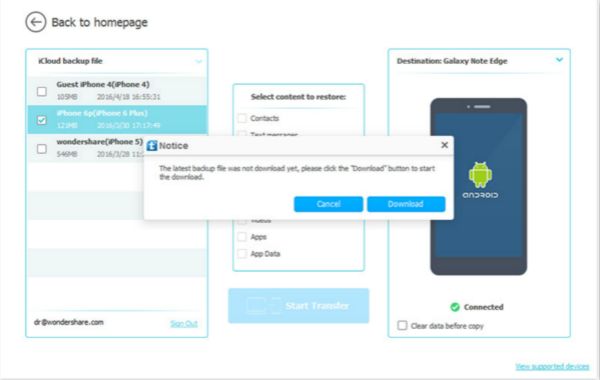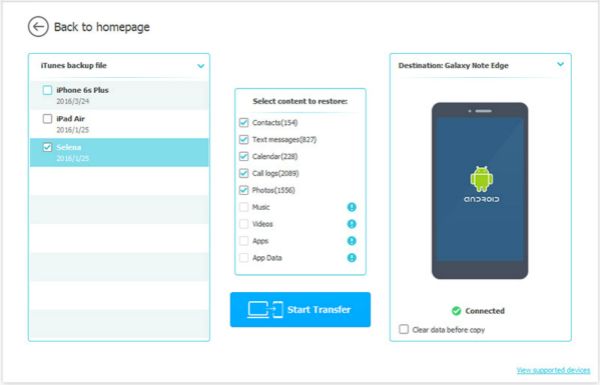 Step 4:
Select the restore data type, then, downloaded iPhone videos from iTunes/iCloud to iPhone directly.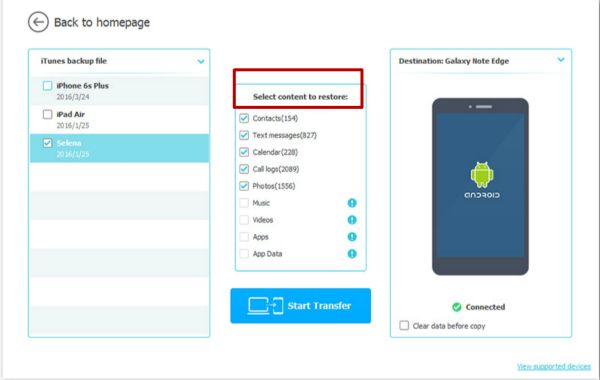 Method 2: How to Recover Deleted Videos from iPhone Without Backup
When deleted videos from Deleted Recently also, without backup, permanently deleted videos from iPhone, the last hope is iPhone Video Recovery-
EelPhone iPhone Data Recovery
, works in iPhone/iPad/iPod contacts/photos/videos/SMS/call logs/audios, etc, all data type in iPhone can be extracted out from the inner storage of iPhone, recoverable data is previewed before finding back.
Step 1:
Download this iPhone Video Recovery tool on computer, and launch it, click on iPhone Data Recovery feather from the recovery tool interface. And then connect iPhone, iPad or iPod to the computer, which missing videos on iPhone, iPad or iPod.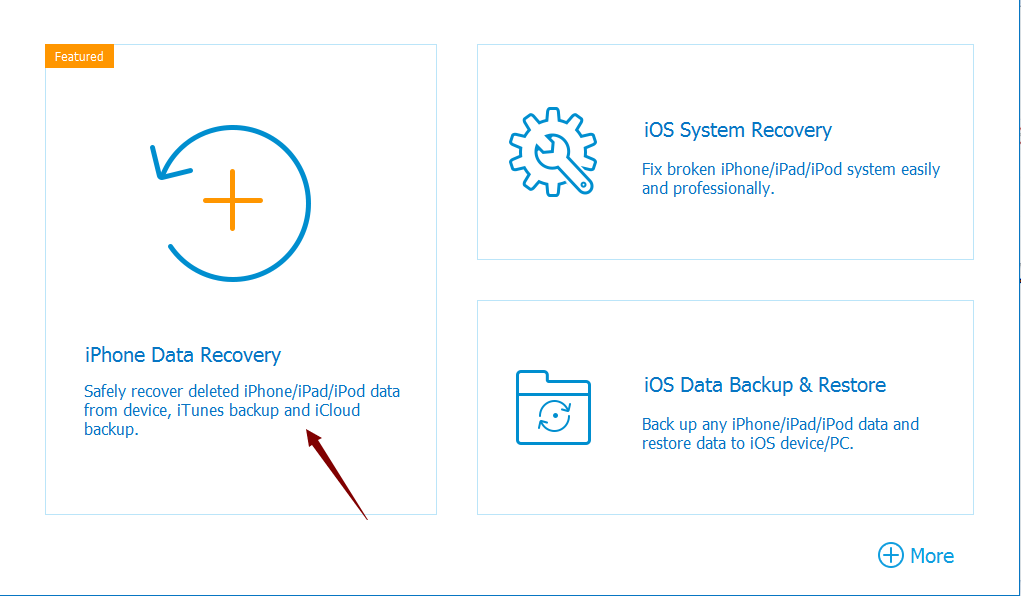 Step 2:
Without backup files, we can only use the first method from the left side, from the right side, click on APP video as the recovery data type, then click on
Scan
to start to scan apple device storage deeply.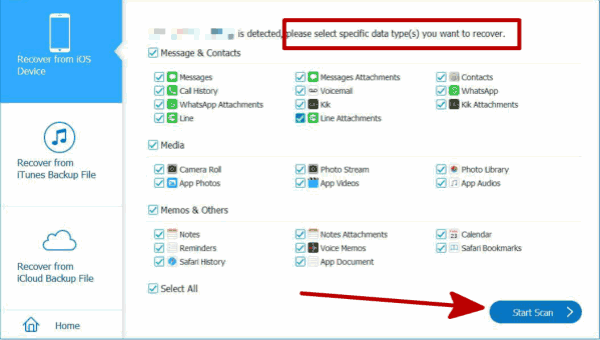 Note:
During the whole process of scanning apple device, keep connecting, and wait.
Step 3:
From the scanning result after a few minutes, preview missing videos on iPhone, check all recoverable videos from the result, select the videos from the result, but no doubt that we can also select all recoverable data from the scanning result. Then click on
Recover
to undelete video iPhone.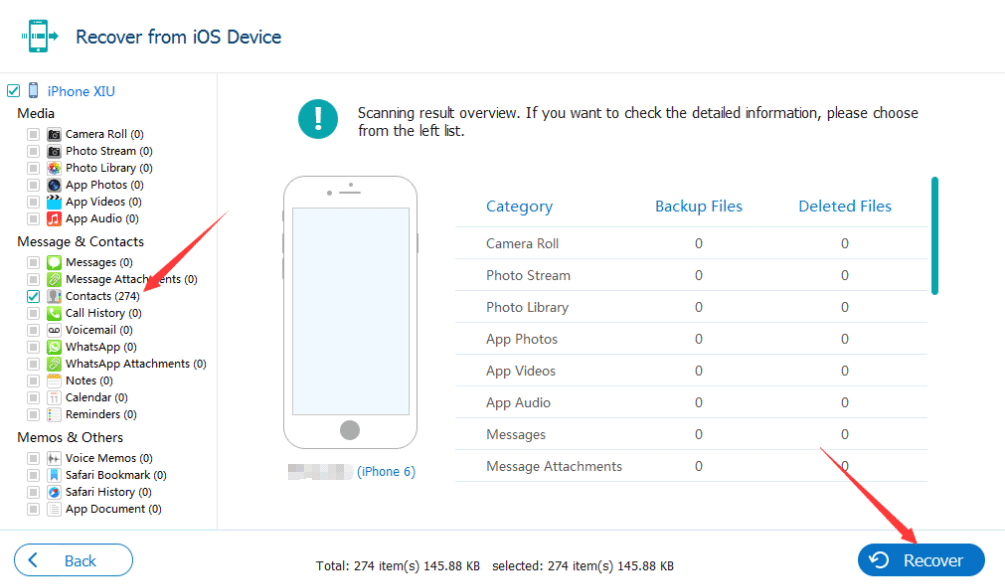 It's all method to undo deleted videos on iPhone, restore deleted videos on iPhone from backup for free, also, we can use the iPhone Video Recovery tool to retrieve deleted videos on iPhone fro backup if iPhone/iPad/iPod can't connect to iTunes, or we set the apple device as new when restore deleted videos on iPhone from iCloud. Even without backup, we can also find back missing videos on iPhone directly.
Alex Scott
This article was updated on 30 December, 2021

Likes

Thank you for your feedback!