Summary
If OPPO forgot passcode/pin/pattern, the best method is to seek the original OPPO screen lock pattern/password, it's the last method to unlock OPPO without losing data. unlock pattern lock OPPO with EelPhone Android Unlock in clicks, but will lose all data on OPPO.
With the development, screen lock from pin to the pattern, to password to fingerprint, even face ID to lock screen, now in 2022, you prefer to use fingerprint and password to lock the device at the same time. You can set up a lock screen from Settings on the device, enter the password or the fingerprint to lock the new phone.
But when you forgot screen lock password/pin/pattern, locked out of OPPO, you have two methods to remove OPPO screen lock without pin/pattern/password/fingerprint. Force factory reset OPPO to hard reset unlock pattern OPPO, it's the free method, and another method-EelPhone Android Unlock, OPPO password unlock tool, which can unlock locked OPPO in clicks, you can remove OPPO password/pin/pattern/fingerprint lock with ease.
Method 1: OPPO Unlock Tool-EelPhone Android Unlock, Unlock OPPO in Clicks
OPPO password remove with EelPhone Android Unlock in clicks, it's the easiest method to unlock OPPO pattern/passcode/pin.
Step 1:
OPPO unlock tool free download by clicking on Download icon above and install the OPPO f5 password unlock tool on computer according to the installation guide. Launch the OPPO mobile pattern unlock software after the installation. From EelPhone, click on the feather-
Remove Screen Lock
to remove OPPO screen lock.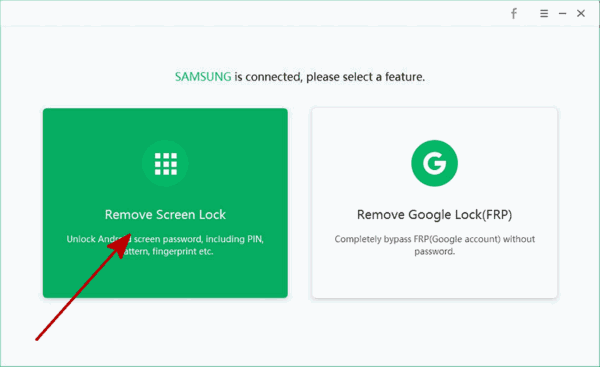 Step 2:
Click on
Start
to remove OPPO screen lock. And at the same time, connect locked OPPO to computer via USB cable, keep connecting during the whole process. Read the
Notes
on the interface before clicking on
Start
button.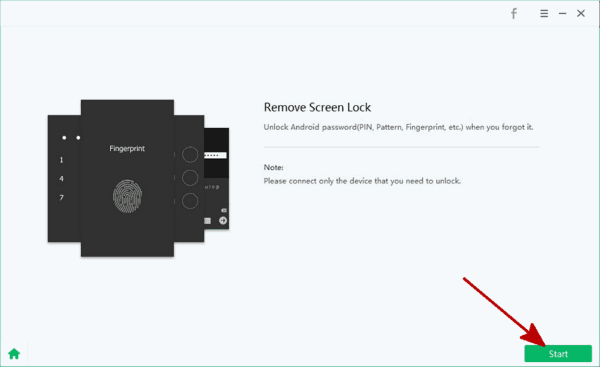 Step 3:
Once clicked on the
Start
button, the tool will bypass OPPO screen lock automatically, don't disconnect OPPO during the whole process.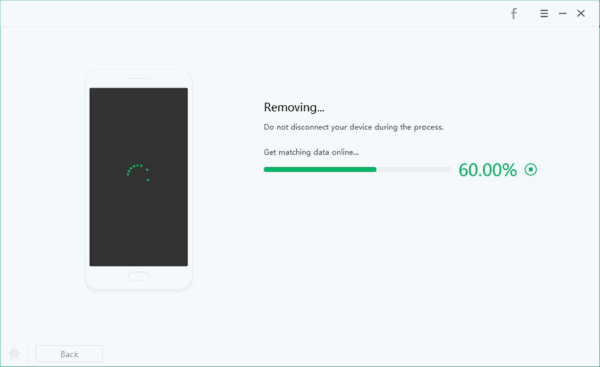 When data package was downloaded to your locked OPPO, the tool will remove OPPO screen lock passcode automatically, just wait. The whole process, what you need to do is click, several clicks to bypass screen lock on OPPO without password/pin/pattern/fingerprint. But the shortage is the data loss after the process. So it's better to backup OPPO to computer from time to time, so that you can restore from a backup file, remove OPPO screen lock without losing data.
Method 2: OPPO Bypass Lock Screen by Factory Reset
It's a free method to bypass OPPO screen lock, and it's also an effective method to unlock screen lock on OPPO. Same as the first method, factory reset OPPO
will erase all data
and settings on OPPO. The detailed guide to hard reset OPPO is below.
Note:
You may be asked to enter OPPO screen password or Google account password during the force factory reset process.
Step 1:
Holding on the power button to power off the locked OPPO device.
Step 2:
Press and hold the volume and power buttons at the same time, after several seconds, your locked OPPO will in recovery mode, use the volume up and volume down button to choose the operation language, then select
Wipe data and cache
, tap on
YES
to continue.
Step 3:
When factory reset process finished, the locked OPPO will return to the factory reset page automatically, click on Reboot or Power Off to start unlocked OPPO, set up locked OPPO settings.

Don't forget OPPO screen password, and backup OPPO data to computer regularly, it's a good habit for us.
Alex Scott
This article was updated on 30 December, 2021

Likes

Thank you for your feedback!