Do You Want Transfer Contacts from Samsung to Huawei Mate 20 with 3 Clicks?

Alex Scott,
07 January, 2019
Summary
You have bought one Huawei Mate20? You must want to transfer contacts from Samsung S9 / S8 / Edge S7 / S7 / S6 / Note 8 / Note 7 / Note 5 / Note 4, Galaxy A9 / A7 / A5 / S10 / Fold to Huawei, you can move contacts from Samsung to Huawei in 3 steps here!
Why you restore other people's phone numbers in your mobile phones? The first reason is certainly you cannot remember all of the phone numbers because it is limited to human's minds. Apart from this reason, there are other reasons that you save other people's phone numbers. For example, it is convenient to call someone because you just need to open your phone and find out the specified phone number. In the second place, it is beneficial for you to contact that person when there are emergent things occur. In addition, it can save your time because there are some special feeling or useful information can be express clearly and quickly by making phone calls. There are certainly other reasons exist. This is why we restore contacts in our phones.
We suppose that you have an old Samsung phone and a new Huawei Mate 20. when you want to
transfer from Samsung to Huawei
, what method will you use? Would you like to save these contacts one by one? We believed that the answer is no. Therefore, to save time, we would like to recommend a professional transfer tool which is called
Eelphone Android Transfer
, but with simple operations to you. Firstly, there is no doubt that you need to download this software and follow the instructions to install this software on your computer. Then read the following article to learn how this problem can be solved in a short while.
How Can We Transfer Contacts from Samsung to Huawei with Clicks?
Step 1:
Connect your Samsung and Huawei phone to your computer
Firstly, you need to prepare two available USB cables in case your phones cannot be recognized by the program. After the preparation, open the software on the computer's desktop and connect two phones to your computer with the matched USB cables. When your phones can be detected by the program, click the "
Phone to Phone Transfer
" button, which is the last one choice of the selection bar.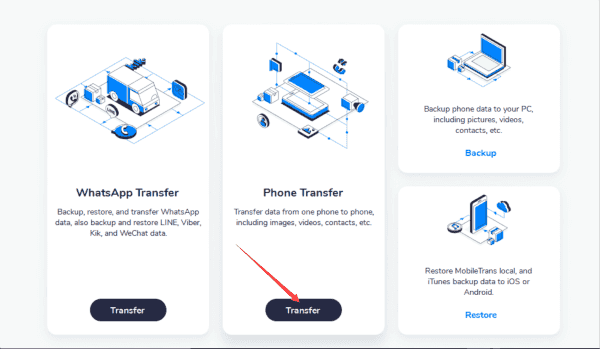 Note:
You should
allow USB debugging
in Samsung and Huawei! The tool can detect your Huawei under allowing USB debugging.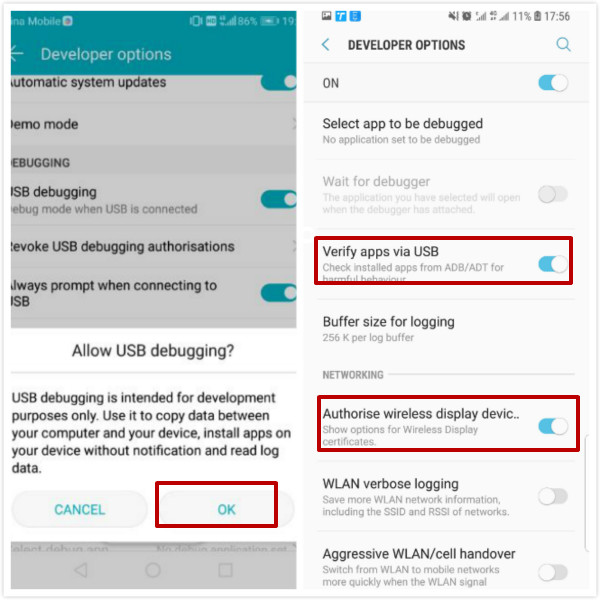 Step 2:
Set Samsung as source device and Huawei as destination device
To set source device and target device, you can choose the selection bar in the lower-right corner of the program window and you need to select the matched setting after you finding it out. Here you need to set Samsung as source device and Huawei as target device.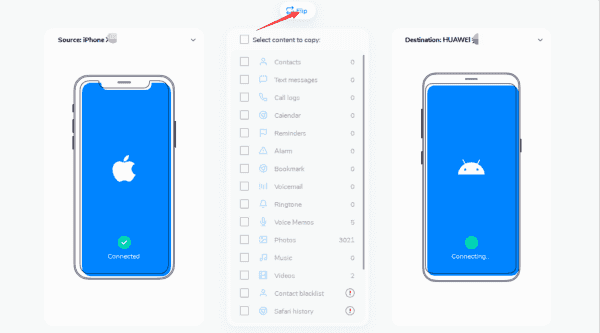 Step 3:
Choose the contacts that you need to transfer from Samsung to Huawei
Click the "
Contacts
" button. And then you will see that the "
Start Transfer
" button, click the button and you can start to choose the needed contacts to transfer to another phone. Then the chosen contacts will be on your Huawei phone soon.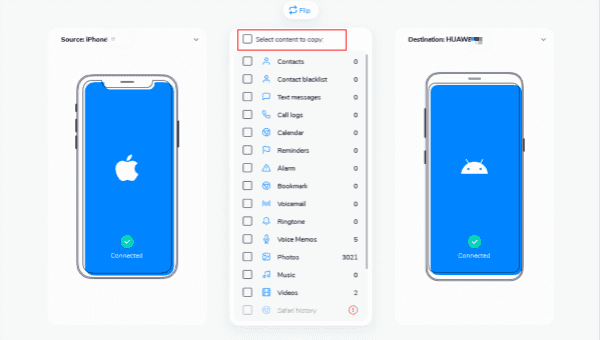 Have you got the rope of this operation? We believed that you have learned how to transfer contacts from Samsung to Huawei. Next time, you do not have to worry about this kind of problem and it will save a lot of your time. Enjoy yourself!
Alex Scott
This article was updated on 13 June, 2019

Likes

Thank you for your feedback!