Summary
Deleting messages on WhatsApp can wipe the chat data, when you open the friend chat window, no any chat messages, but all messages were still stored in device storage, so if you want to erase WhatsApp messages permanently, turn to EelPhone Mobile Erase, even recovery tool can restore the WhatsApp messages then.
WhatsApp takes the top situation around the word of the chat app field, with more than 200 million users in the world. It's available for workers, for family, and also one link between friends. Face time or messages chat time, send photos/videos/audios/text messages to others online. It's one convenient chat app for us.
At the same time, so much private information in WhatsApp that we don't like to share it with others, especially when your wife or girl check your device messages regularly. You can delete WhatsApp chat messages from iPhone/Android, no messages when you open the chat window.
WhatsApp app owns the feature to delete chat messages from settings, so you can delete messages in WhatsApp from settings, but you should know that the photos and videos and other chat messages were already stored to iPhone/Android inner storage, on condition that you want to delete messages from WhatsApp permanently, you should the help of professional tool-EelPhone Mobile Erase.
Part 1: How to Delete WhatsApp Chat
You should know that if you deleted WhatsApp chat, it doesn't mean that you have erased WhatsApp chat messages, you've just deleted the chat window:
From the bottom of WhatsApp when you started up your WhatsApp app on your device, switch to Chats, swipe left on the chat you want to delete, click on More>Delete Chat; if you want to delete many chats at one time, from Chats section, click on Edit from the top corner, select the chat you wish to delete > Tap Delete > Delete Chat. It's the quick way to delete many chats at one time.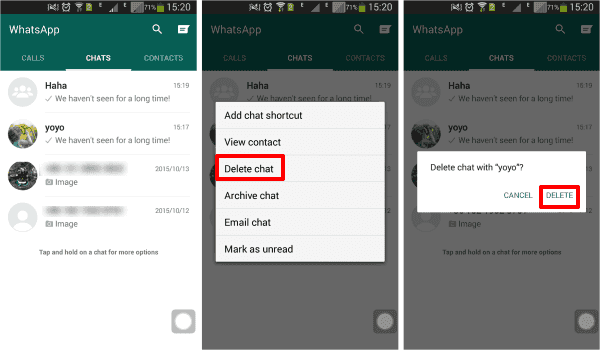 You've deleted the WhatsApp chats but the chat messages are still stored in your WhatsApp. You can restore from WhatsApp backup then.
Compared with deleting WhatsApp chat, clearing WhatsApp chat is the way to erase WhatsApp chat message, you can get the detailed guide from the third part below.
Part 2: How to Delete Messages from WhatsApp Permanently
Even you've cleared WhatsApp chat from WhatsApp settings, the WhatsApp data were still stored to your device's inner storage, you can browse the chat data from device storage. In the case that you would like to delete old WhatsApp messages for everyone, use EelPhone Mobile Erase, which will delete message in WhatsApp permanently, you can't restore it even with a professional data recovery tool in the market.
Step 1:
Download EelPhone Mobile Erase to computer, install it by following the guide on the tool. From the main page of the tool you've downloaded, several functions from EelPhone, just click on
Erase
feature.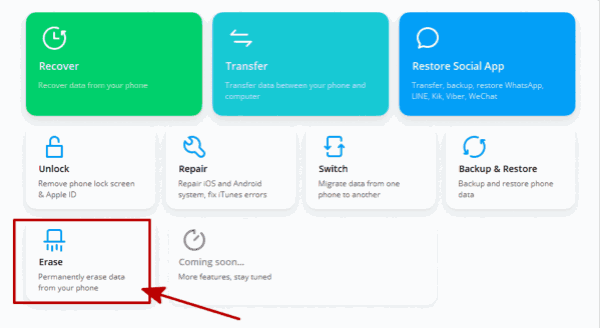 Step 2:
Plug your iPhone/Android into computer via USB cable, click on
Erase Private Data
to scan your iPhone.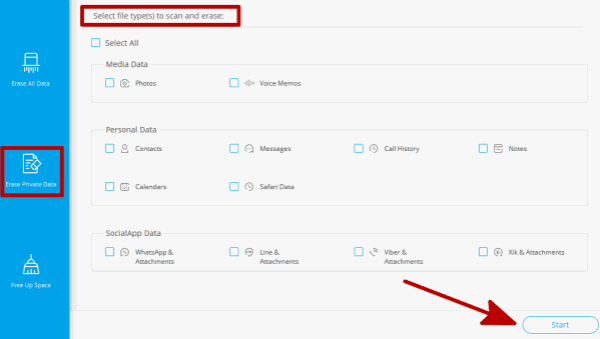 Step 3:
When the device was linked to the tool with success, click on
Start Scan
button to scan out all data in your device inner storage.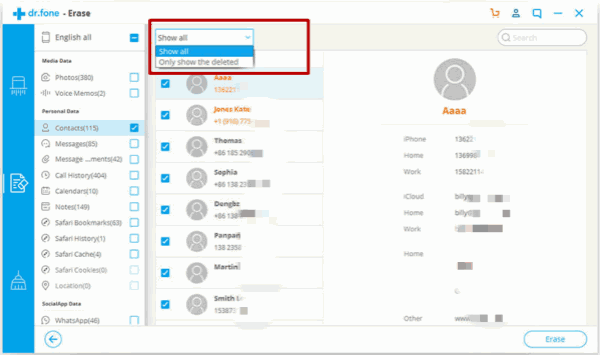 Step 4:
It takes a few minutes to scan out all data in you device, from the scanning result, preview all data you can delete from the left side.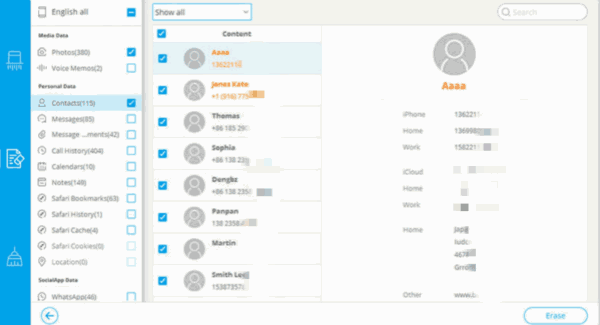 Step 5:
Select the WhatsApp chat messages from the scanning result, then you can click on
Erase
button to delete selected WhatsApp messages.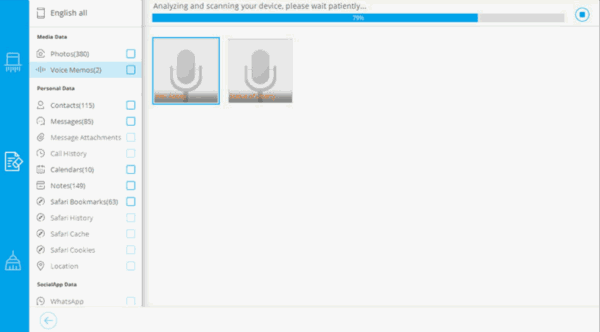 You'll be asked to enter an Erase letter to confirm the process because WhatsApp messages can be recovered once deleted even with the recovery tool in the market.
It's the steps for iDevice, for Android phone, you should enable the USB debugging on the phone in advance so that the tool can scan out all WhatsApp messages. EelPhone Mobile Erase is available only for Samsung phone rather than another Android device. You can't select the WhatsApp chat messages one by one but all data in Android, considering carefully before use the tool to delete WhatsApp messages from Samsung phone.
Part 3: How to Delete a Message on WhatsApp from WhatsApp Settings
We've already pointed out that you can also delete WhatsApp messages from inner settings directly, you can't restore deleted WhatsApp data from backup file, but you can get it back with the help of recovery tool.
Tip 1: Delete WhatsApp Messages One by One
Step 1:
Enable WhatsApp app on your phone, from the bottom of the main page, switch to Chats.
Step 2:
Open the chat window from where you'll delete the messages.
Step 3:
Tap on the message you want to delete, click on Trash icon from the top.
Tip 2: Delete WhatsApp Chats in Bale
on the assumption that you would like to delete all messages of one chat or several chats at one time, you can do like this:
Step 1:
Switch to Chats section also from the main page.
Step 2:
Long hold on the chats to select the chats you want to delete.
Step 3:
From the right-upper corner, click on More icon "⋮"
Step 4:
Check Delete media in chats, click on Delete to erase selected chats messages.
When you open the chat then, selected messages disappeared. But the photos and videos are still stored to the phone inner storage.
Part 4: WhatsApp Delete Message Backup Before Deleting
If you're going to delete WhatsApp messages with EelPhone Mobile Erase, you should know that deleted WhatsApp messages can't be restored even with professional recovery tool, so if you don't want to delete WhatsApp messages permanently, backup WhatsApp data in advance using EelPhone WhatsApp Transfer.
Step 1:
Download the EelPhone WhatsApp backup tool to computer, from the main page of the tool, click on
WhatsApp
.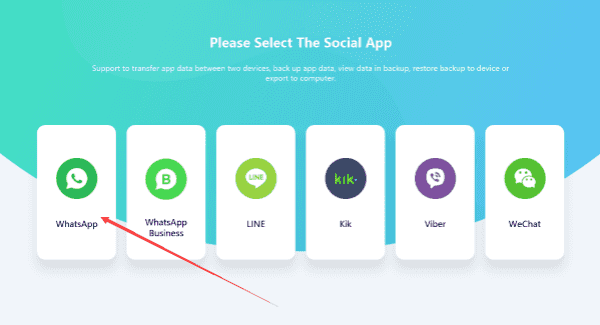 Step 2:
Connect the device to compute now, and from the left section, click on Backup.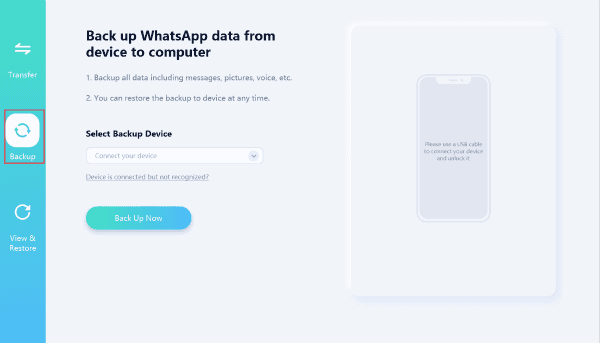 Step 3:
From the right side, click on
Backup WhatsApp Messages
.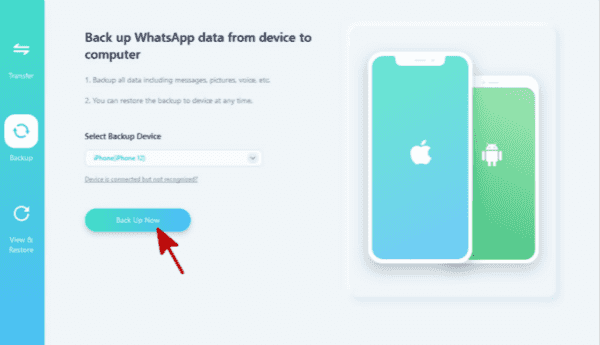 Just wait and keep connection during the backup process, from Android phone, you should enable USB debugging on the phone, just follow the guide on the tool to backup WhatsApp messages before using the EelPhone Mobile Erase when you prefer backup WhatsApp to computer.
Alex Scott
This article was updated on 30 December, 2021

Likes

Thank you for your feedback!