How to Transfer Pictures from Samsung to HUAWEI

Alex Scott,
22 February, 2019
Summary
With Mobile Transfer, you can transfer photos from Samsung S9 / S8 / Edge S7 / S7 / S6 / Note 8 / Note 7 / Note 5 / Note 4, Galaxy A9 / A7 / A5 to HUAWEI MATE 20/MATE 20 PRO/MATE 20X/MATE P20, etc. Not only photos but also contacts/SMS/Call logs/App data can be transferred from Samsung to HUAWEI.
In modern time, more and more people like to restore photos, files, movies, etc. in Cloud because it has a very large capacity and the data can be saved for a long time. But the problem is when people need the data in Cloud, they have to spend a lot of time to transfer to their phones. For instance, when you want to transfer photos from your old Samsung phone to your new Huawei phone, you need to transfer to Cloud and then transfer from Cloud to your new phone again or use other software to conduct the transfer. But if the pixel of your photos are large and you have to transfer plenty of photos, it is a time-consuming thing for many people. Here we highly recommend a transfer tool, Transfer Android, to all of you. It is regarded as the fast, professional, and simple transfer tool. It is beneficial for you to experience this software. In the beginning, you have to download this software and follow the instructions to install it on your computer. After that, follow the above instructions, to see how powerful this software is and how it deal with your problem with just several clicks.
Guideline on Transferring Photos Between Different Phones
Free download
Eelphone Mobile Transfer
in your Window or Mac, launch it with double clicks.
Step 1:
Link the new and the old phone to your computer
Run the software you have just downloaded on your computer. Using two USB cables that you have already prepared, connect your target phones to your computer. When your phones can be recognized by the software, it means you can move on to finish the following steps. What you need to do next is to press the "
Phone to Phone Transfer
" button, which is the first one of the selection bar on the left side of the software window.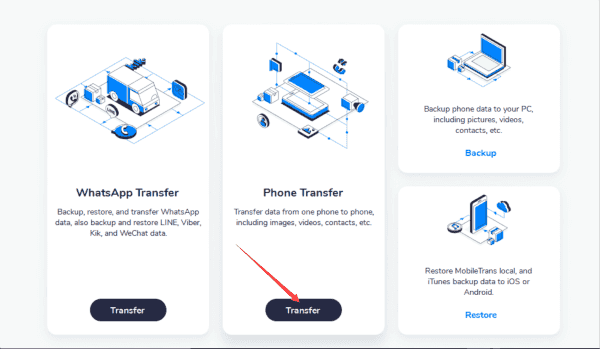 Step 2:
Choose your source phone and destination phone accordingly
In the second place, you need to set your Samsung phone as a source phone and your Huawei phone as destination phone respectively so that your data can be transferred from one phone to another. You can find the selection "
Flip
", you can transfer also from HUAWEI to Samsung.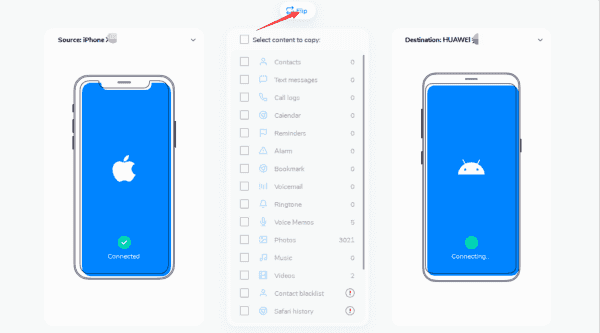 Note:
Make sure that you have allowed USB debugging in your Samsung and HUAWEI phones, or the Mobile Transfer cannot detect your phones.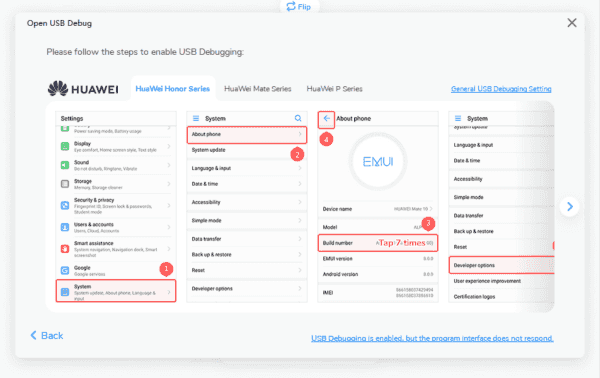 Step 3:
Select your photos to transfer from Samsung to Huawei
From "
Select Content to Copy
" button in the middle of the software, select "
Photos
" button. Then the photos on your old Samsung phone will be presented to you. The next thing you need to do is to select the photos that you want to transfer from your old phone to the new one. If you want to choose a part of them to transfer, you have to be patient because it is a time-consuming task if you have a lot of photos on your phone. when the selection is finished, you will see the "
Start Transfer
" button on the bottom of the program and then you need to press it to start the transfer process. In a shorter time, the chosen photos will be presented on your destination phone. Click the "
OK
" button to finish the transfer.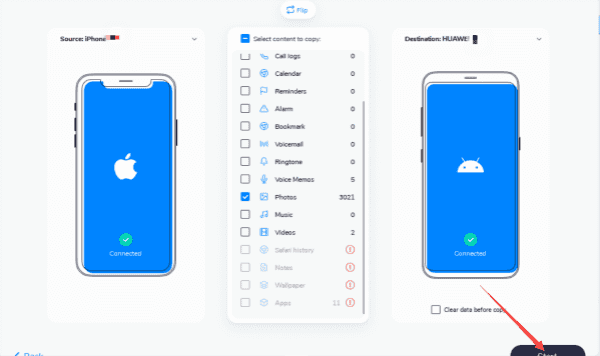 Until now, you have just read the whole steps above. We believe that you have learned the knowledge and transfer your photos between different phones successfully. You might as well introduce to the people who need this software around you.
Alex Scott
This article was updated on 13 June, 2019

Likes

Thank you for your feedback!