Summary
How to recover deleted photos from Samsung galaxy? Don't be at s loss. Develop a good habit of making backups regularly, then recently deleted photo recovery from Cloud backup/Google Drive. Or deleted photos recovery by EelPhone Android Data Recovery.
Samsung deleted photos, can't be found in Cloud, We will be very anxious. Of course, there will be a way to solve this problem.
Mobile phone has become a necessary tool for us now. Today's mobile phone is no longer just a tool for talking. Because with the continuous development of technology, it has been equipped with all kinds of powerful functions, in which camera function is one of the most essential functions. You do not need a camera, because some mobile already can compare with the camera. With one mobile phone in hand, we can take pictures at any time and anywhere to record the wonderful scene and important parts of our lives. But sometimes when we want to manage the phone files and photos, or other reasons, we may accidentally delete some photos. Is there any way to recovery delete photo that the cell phone has deleted by mistake? The answer is yes. How do I recover deleted pictures? The following context will help you learn about the way to recover deleted pictures from Samsung S9 / S8 / Edge S7 / S7 / S6 / Note 8 / Note 7 / Note 5 / Note 4, Galaxy A9 / A7 / A5 / S10 / Fold. Let's take a look.
Part 1: How to Recover Deleted Photos from Samsung Gallery Directly
Maybe you do not get used to making a backup for your phone data in the usual life, or maybe you cannot get the missing pictures you need in your Cloud backup or Google Drive trash because the 60-day period has passed. In this case, all you need is a recovery software. You can Samsung restore photos by EelPhone Android Data Recovery.
EelPhone Android Data recovery is a very useful data recovery program that helps you retrieve the lost or deleted images from Samsung phone. You only need to connect the phone with computer via USB cable. After connected, Android Data Recovery will scan your phone directly and present all data of your device
without rooting
, you can select what you want to recover. Let's see how to do it correctly.
Step 1
: Of course, the first of all, you should download the program. After you have installed the Android Data Recovery on your computer successfully, launch the program and click on "
Recover Lost Data
"option on the dashboard and then plug your Samsung device into the computer.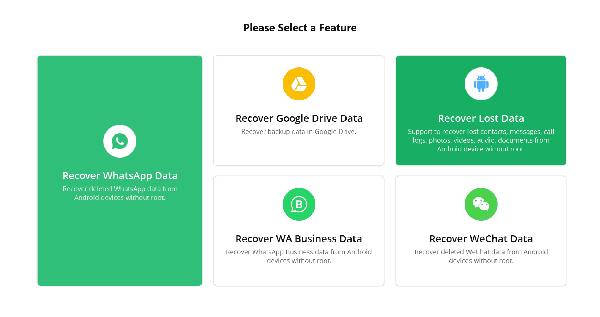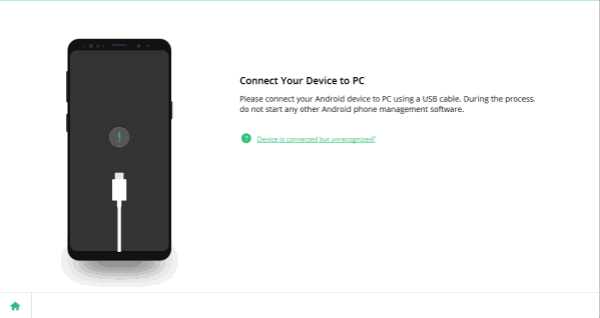 Step 2
: There may jump out a page in your phone, you should allow USB debugging, just click on "
OK
" to move on. The detailed guide on the tool let us enable USB debugging on settings at first.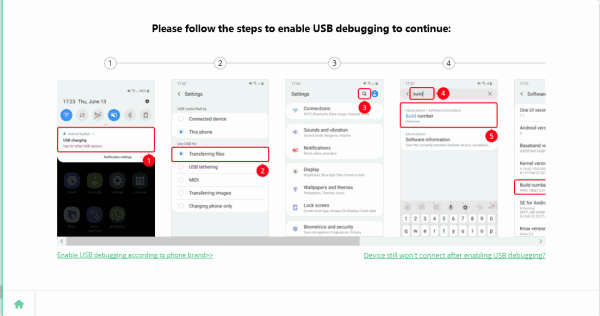 Step 3
: Once your Samsung phone connected to the recovery tool with success, you can select the Photos as the recovery data type. Then clicks on
Start
to scan Samsung phone photos, including deleted Samsung photos.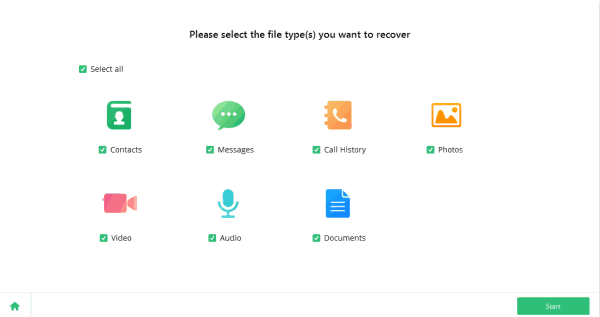 Step 4
: What you should do now is keeping connection when the recovery tool is scanning your Samsung phone, it will scan out all photos in Samsung device.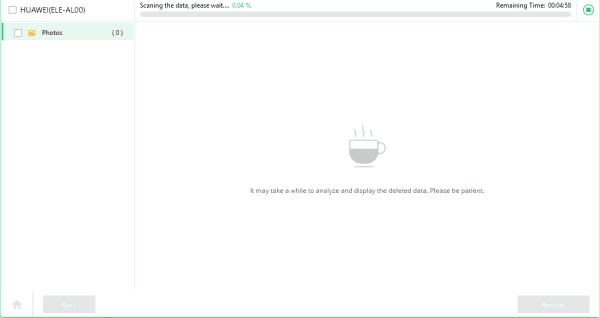 Step 5
: From the scanning result, select the deleted photos you want to restore, you can select one by one, or you can select all, click on
Recover
button to restore selelcted photos to computer folder, you can set up the save folder of recovered photos.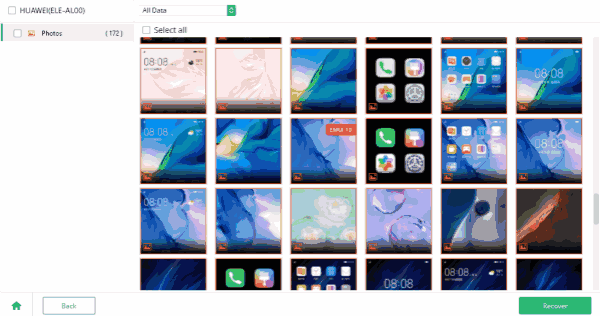 Now the deleted photo has been saved in your computer. If you need you can also copy back to your Samsung Galaxy S/ Note. Now your photo is back.
Part 2: Recover Deleted Photos from SD card of Samsung
Samsung phone users can still save photos to SD card to save more space for Samsung device storage, if deleted Samsung photos were stored in SD card before having been deleted, we should use the EelPhone Samsung Photo Recovery tool to scan SD card, and retrieve deleted photos from Samsung SD card.
Step 1:
As the part 2, free download EelPhone Samsung Photo Recovery, and after clicking on
Recover
from the page on EelPhone, from the left side, among three ways of Samsung Photo Recovery, switch to the second way-
Recover from SD Card
. Put Samsung SD card into one card reader, then put the reader USB into computer. Select the USB on the recovery tool.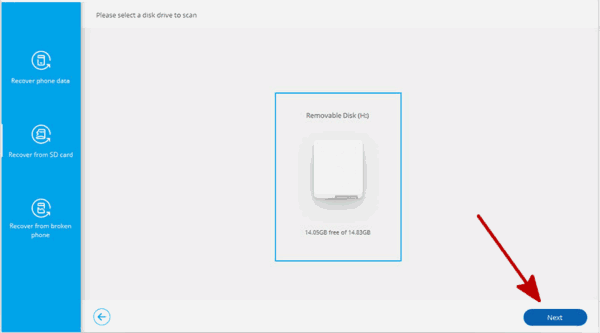 Step 2:
From the recoverable data list, select
Gallery
from all data type to retrieve deleted photos from Samsung SD card.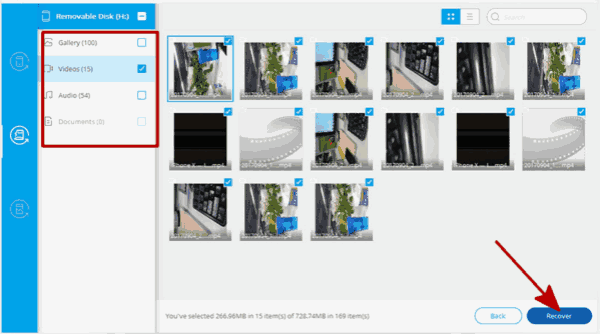 step 3:
The tool will scan SD card deeply, and from the scanning result, preview the recoverable Samsung gallery, we can just restore some pictures on Samsung SD card one by one, and then click on
Recover
to get back deleted pictures from Samsung phone SD card.
Part 3: Recently Deleted Photo Recovery from Cloud backup/Google Drive
First, you are used to backup Samsung photos with cloud-like Google photos and Dropbox in usual, this is a good habit because it makes you much easier to retrieve lost photos. It really helps a lot. It is so convenient to restore deleted pictures from Cloud backup or Google Drive trash. Don't forget to open the Google Photos Backup and Synchronization button, or it has been beyond the automatic storage time. You can find lost photos after three simple steps as follows.
Step 1
: Open the Google photos, login to your account you have backup data and go to the Trash.
Step 2
: Scan all the photos presented on the right, select out those deleted photos. Pick out the photo to recover.
Step 3
: Do not forget to click the recovery option on the upper right, and it is done.
What's more, At the top right, you can see that items in the trash in Google Photos will be automatically deleted in 60 days, while Dropbox will be available in the web version, and those deleted will only be saved for 30 days. If the image here has been deleted also, in this case, don't worry, we can use the next method.
Part 4: Develop A Good Habit of Making Backups Regularly
If you do not have the habit of data backup in your daily life, I hope you can try to do it. I suggest you a software –
EelPhone Android Data Backup and Restore
, which can help you make a data backup easily.
Step 1
: Install Samsung Photo Backup software on your computer and open it. Connect Samsung phone to the computer and allow USB debugging on Samusng phone to allow EelPhone Samsung Data Recovery tool detect Samsung inner storage.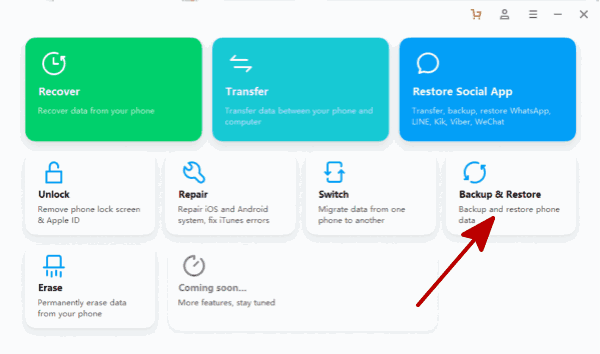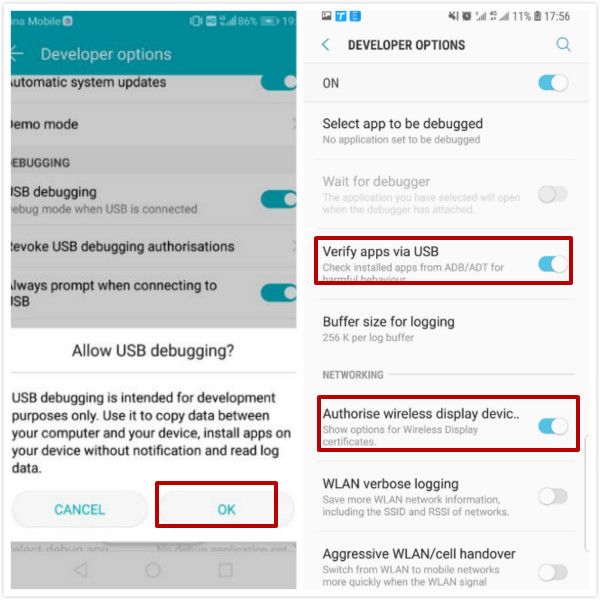 Step 2
: Click on the "
Backup
" button to begin making backups for all your data. In this process, please don't use your phone anymore and just wait patiently until it finishes.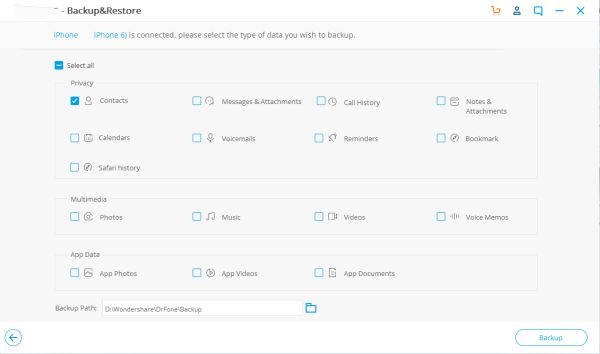 Step 3
: You can see what have been saved by choosing "
View the backup
". Hope it can help you.
Alex Scott
This article was updated on 29 January, 2021

Likes

Thank you for your feedback!