Summary
Once broken or damaged Samsung phone by accident, the data in Samsung should be extracted with the help of EelPhone Android Data Recovery tool, which can extract broken Samsung, recover data in broken Samsung without limitation.
"Last night, I was taking a shower, my 3 years old son was playing the game with his father, however, when I got out of the shower room, father told me that my Samsung note 5 dropped by accident, the Samsung screen was broken, and I couldn't enter the Samsung phone with broken screen, and 2 hours after, the screen was totally black, I can't use the Samsung phone anymore. So bad, but more important is the data in Samsung phone, especially the photos, the memory of the life, I wonder if there is a method to recover data from broken Samsung, is it possible?"
When we broke Samsung phone, the data in the phone is so important than the broken phone, we eager one way to undo data from broken Samsung phone. But in this situation, the only chance for us is EelPhone Android Data Recovery, which can even extract data from broken Samsung. But we should alarm at first, for broken Samsung, the tool will extract only exact data in Samsung, but deleted Samsung data can't be scanned out anymore.
How to Recover Data from Broken Samsung Phone in Steps
EelPhone Android Data Recovery
, which can recover deleted data from Android directly, and retrieve deleted data from SD card, another important function is that it can undelete data from broken Samsung, including almost all Samsung model. And we can even select the recovery data type from broken Samsung.
Step 1:
Free download the EelPhone Android Data Recovery from above Download button, Window or MAC, it depends on your computer system, launch it after the installation of the tool. But from the interface of the tool, we can see several functions in EelPhone, so many Android tools together here, but what we need now is
Recover
from the left side, click on it to go on.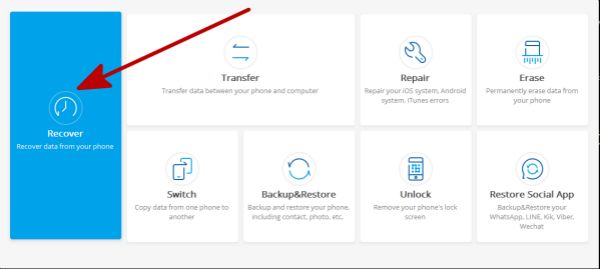 Step 2:
Connect your broken Samsung to a computer now, the tool will detect your device automatically to switch to Android interface, of course, we can also click on Recover Android Data(Recover function is suitable for android and apple device).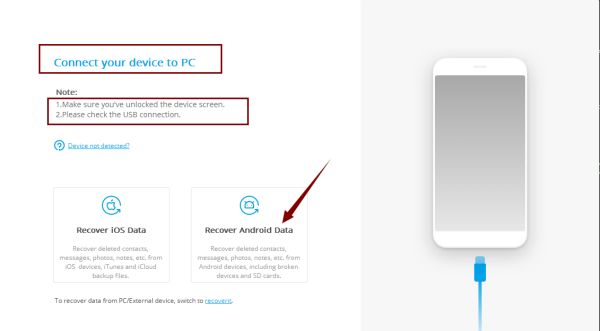 Note from the interface, turn off the Samsung phone, and make sure the connection during the whole process of recovery.
Step 3:
From the left side, 3 different types of android data recovery, select the third type: Recover From Broken Phone, which is designed for broken phone only, and we can also only recover existing data in broken Samsung but not including deleted Samsung data.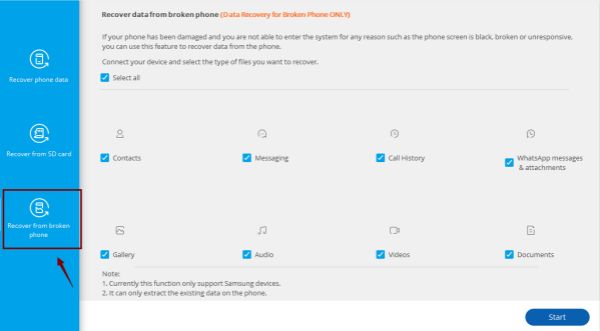 Step 4:
From all data type list, select the recovery data type you want to get out of broken Samsung: Contacts / Gallery / Audio / WhatsApp Messages & Attachment / Chat history / Videos, etc. Then click on Start to go on.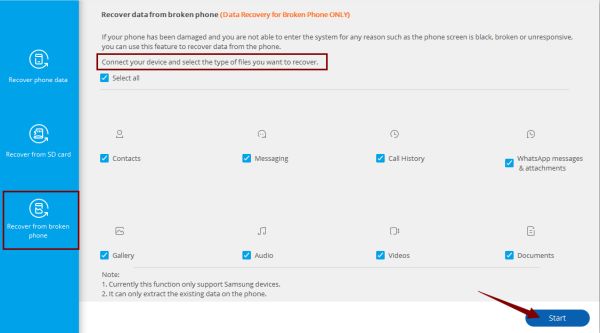 Step 5:
Select broken Samsung type, Touch doesn't work or you can't access the broken, click on the former, if only have a broken or black Samsung screen, click on the later.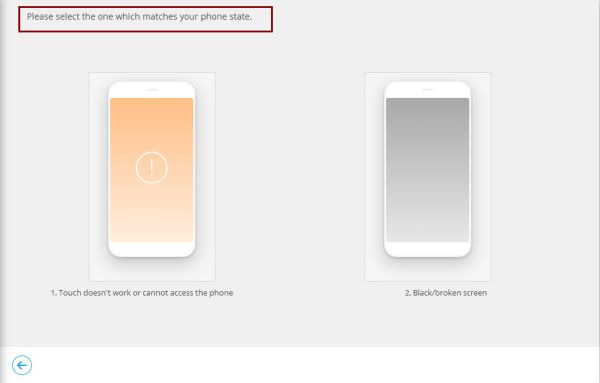 Step 6:
Select the Samsung phone model version, make sure that you have selected the right device model according to your broken Samsung. If the version isn't compatible to your broken Samsung, your Samsung will get into bricked, but if no have version compatible to your device, it means that the tool can't recover data from your broken Samsung. After all, tap on
Next
to start retrieving data from broken Samsung phone. Enter
Confirm
letter to confirm the process.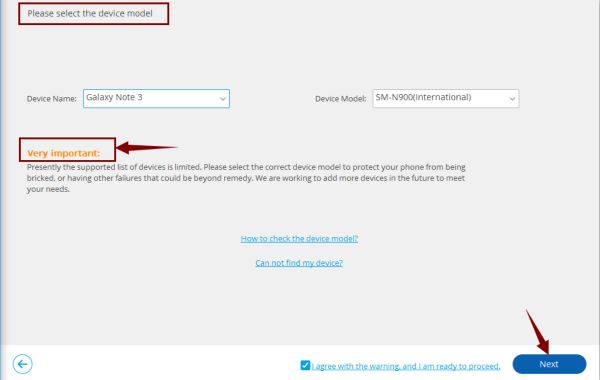 Step 7:
Follow the guide to put your broken Samsung into
Download mode
to download package for your broken Samsung.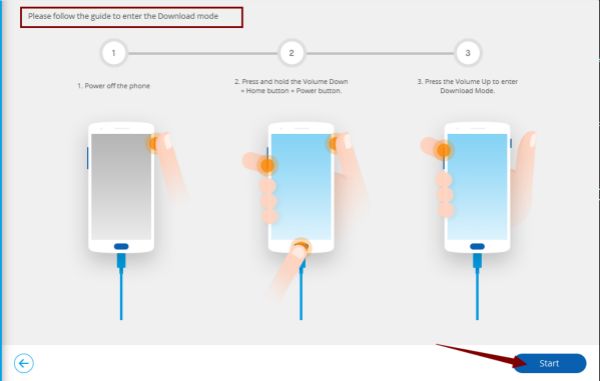 Step 8:
Once downloaded package, the tool will scan the data in broken Samsung automatically, from the scanning result, select the recovery data type you want to recover from broken Samsung phone, click on
Recover
to undelete data from broken Samsung.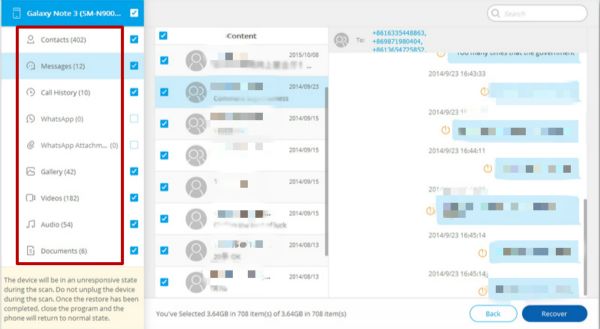 Of course, if you have synced Samsung data to backup tools, like Google Drive, just turn to backup to download Samsung data for free.
Alex Scott
This article was updated on 06 May, 2021

Likes

Thank you for your feedback!