Summary
It's easy to undo deleted WhatsApp messages when you deleted your Samsung WhatsApp Messages recently or less recently. WhatsApp recover deleted messages by Android Data Recovery after more than seven days without rooting and easy to operate.
WhatsApp (WhatsApp Messenger) is an application currently available to users of the iPhone, Android, Windows Phone, WhatsApp Messenger, Symbian, and Blackberry phones for communication between smartphones. With the help of a push notification service, this application can instantly receive messages sent by friends and colleagues. It is free of charge to transfer sending SMS to using WhatsApp program to send and receive information, pictures, audio files, and video information. WhatsApp is a very popular cross-platform application for communication between smartphones. WhatsApp is registered on the basis of a mobile phone number. When you register, you need to enter your mobile phone number and receive a validation message. Then WhatsApp will search for people already in use in your mobile phone contacts and automatically add them to your mobile phone contacts list.
However, there is a question: How to retrieve deleted WhatsApp messages on Samsung? Don't worry, let me tell you.
Part 1: How to Restore Deleted WhatsApp Messages Without Backup
When you haven't backup WhatsApp, or restore from backup file with failure. EelPhone Android Data Recovery is the best choice for you, which supports to restore the data of Samsung S9 / S8 / Edge S7 / S7 / S6 / Note 8 / Note 7 / Note 5 / Note 4, Galaxy A9 / A7 / A5 / S10 / Fold WhatsApp. Now please follow my instruction.
For Android users, you know the disadvantage of rooting, but most of the Android recovery tool in the market need the root of the phone but EelPhone Android WhatsApp recovery superiors to others by the no needing of rooting.
Step 1:
Install and open the software, choosing the function of
Recover WhatsApp Data
, it's the feature to undo deleted WhatsApp messages from Samsung without rooting..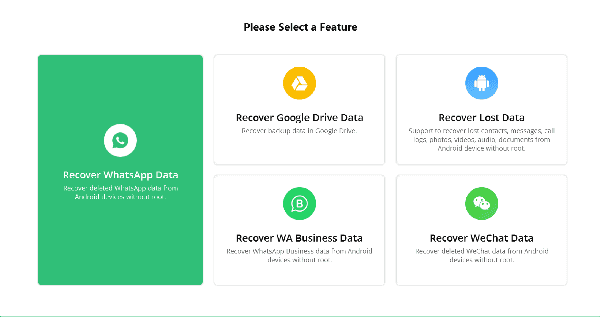 Step 2:It's very important to link Samsung to the tool, you should
enable USB debugging
on Samsung phone, and the guide to enable the USB debugging is on the tool, it's easy.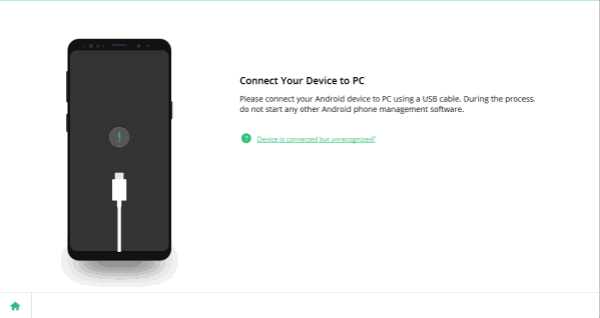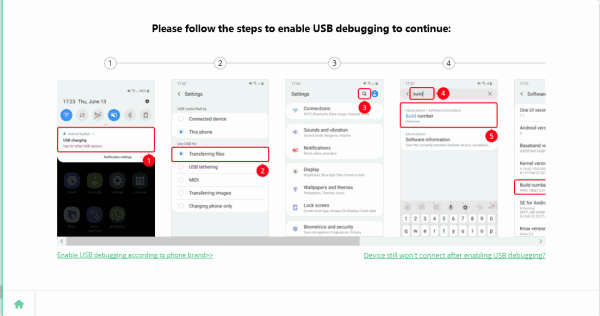 Step 3:
Once the Samsung phone was connected to the tool, to avoid data loss, backup WhatsApp data right now, you can backup WhatsApp messages from the settings.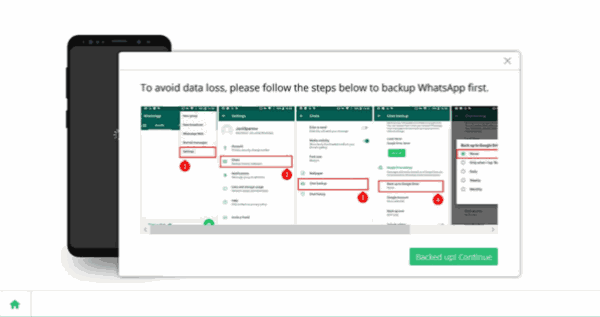 Note:
Make sure that you have logged in WhatsApp in your Samsung phone with the Samsung account.
Step 4:
When the scan is finished, the program will show you all of the messages in your Samsung device, preview all recoverable WhatsApp messages from the left side, choose all or part of WhatsApp messages from the result. All is ready, click on Recover button to get back lost WhatsApp messages.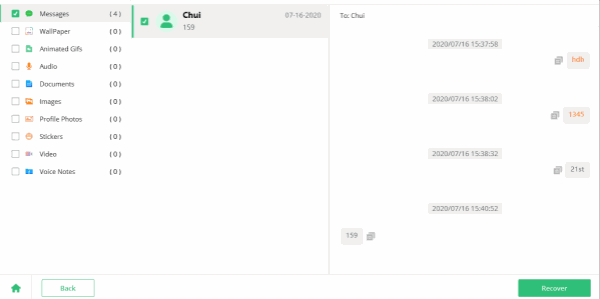 Part 2: How to Restore WhatsApp Backup to Get Deleted WhatsApp Messages Back For Free
But the precondition is that we have backed up WhatsApp chat from
Settings>Chats>Chat Backup> Backup Up Now
on WhatsApp, from WhatsApp archived messages, we can restore WhatsApp chats from WhatsApp backup.
Just uninstall WhatsApp on Samsung phone, and then reinstall WhatsApp on Samsung phone with the same account as before, when loading into WhatsApp, appears the notice to restore WhatsApp messages from backup, choose YES to undelete WhatsApp chat history. All lost WhatsApp chat history get back soon, if miss this WhatsApp recovery chance, turn to the next parts to get your deleted WhatsApp messages back.
Part 3: How to See Deleted Messages on WhatsApp from Samsung Within One Day
If you want to recover the messages in WhatsApp, the deletion is only within one day. you are lucky. Because it means it would be easy for you to restore the messages you just lost. Thanks to the strong function of WhatsApp, it will make a backup to your messages automatically by using both your local backup and Google Driver(if you have). So now let us see how to do it.
Step 1:
You need to uninstall and reinstall WhatsApp.
Step 2:
Enter your country code and phone number to verify our identity. After your phone number being verified correctly, you can restore your messages and media from your phone's internal storage. If you don't restore now, you won't be able to restore later.
Note:
If you have signed in Google Drive account in your WhatsApp, in this step, you should sign in to your Google Drive account. Then restore your messages and media from Google Drive. If you don't recover now, you won't be able to recover later.
Step 3:
Click on Restore to recover WhatsApp Messages on Samsung Devices. WhatsApp message recovery finishes.
Part 4: How to See Deleted WhatsApp Messages Samsung within One to Seven Days
If you are not that lucky because of the deletion of messages you want to restore within one to seven days, do not be so worried because there is still a solution. But you should turn off Google Drive in WhatsApp. There only add some steps than part 1. You must rename the backup file, and then operate the first part. So let's see the detailed step of WhatsApp message recovery from Samsung within one to seven days.
Step 1:
Connect your phone to the computer and enter the local backup folder: internal storage / WhatsApp / database. If your Samsung phone has SD card, you should turn to the directory SD card / WhatsApp / database.
Step 2:
In the local backup folder, the latest backup file has been named msgstore.db.crypt12 and the older backup file has been named msgstore-YYYY-MM-DD.1.db.crypt12. Here Y means year, M means month and D means day, and you should know that the local backup files can only show the latest seven days data of your phone. You should find out the file you want to recover in the local backup files and rename the file from msgstore-YYY-MM-DD.1.db.crypt12 to msgstore.db.crypt12. You can also rename the original msgstore.db.crypt12 to oldmsgstore.db.crypt12 or others to avoid rewriting.
Step 3:
Until now you can execute the same steps as part 1 to uninstall and reinstall the WhatsApp to restore.
Alex Scott
This article was updated on 06 May, 2021

Likes

Thank you for your feedback!