How to Crop a Video in 2021

Alex Scott,
29 May, 2020
Summary
How do you crop a video? When you download videos from Instagram/YouTube, you can use video crop app to crop videos, save part of the videos, and share cropped videos to others. With EelPhone Video Editor, you can crop video premiere as you like, with original quality and easy operation, crop a video in clicks.
When you saved videos from Instagram or YouTube or another video player, and you want to share it on other media platform, it's better to edit videos online to make it personal, you can crop videos at least. Crop the size of a video, make it smaller, save more space, and then you can store it on a mobile device or other players.
And some people think that cropping video is for professional or export, in fact, it's a common and easy operation for video, you just need one professional video crop editor, from this article, you'll get the skill to crop a video within clicks and no skill need.
How to crop YouTube videos? Download YouTube videos to computer, and then use EelPhone Video Editor to crop videos within clicks in original quality, what's more, you can even crop video after effects, more tool to edit videos online from EelPhone Video Editor.
Part 1: How to Crop a Video on Mac/Windows With Ease
EelPhone Video Editor, works on mac and windows, so you can crop a video on mac or crop video windows 10, and it can not only crop mp4 video, but suitable for all video format.
Step 1:
Download EelPhone Video Editor on mac or windows, launch it after installation, from the home page, you can see all types to edit videos: crop, joiner, split, effect, etc. Jus click on
Crop
to crop videos on computer.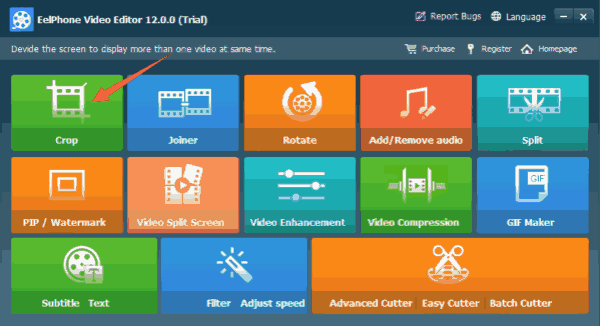 Step 2:
If you want to crop video in after effects, you can use the Filter from the home page of the video crop editor, you can jump to
Effect
next to Crop.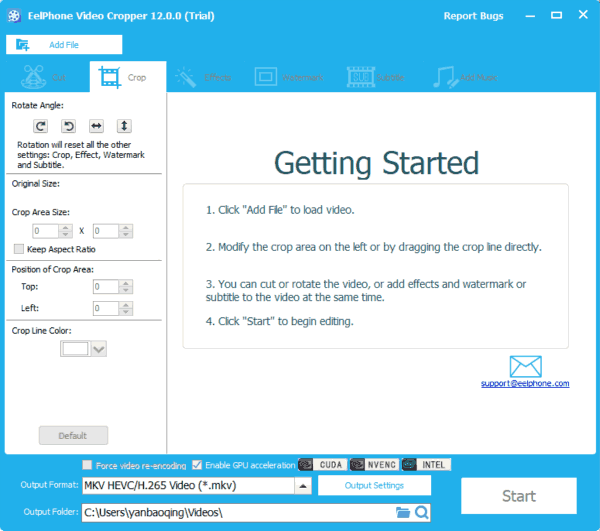 Step 3:
Click on
Add File
button from the right upper to load videos you want to crop on computer. And the video editor works on MP4/MOV/WMV/FLV/AVI/MKV, all videos formats, just import to the editor to crop. And at the same time, you can import many videos, not one by one if you want.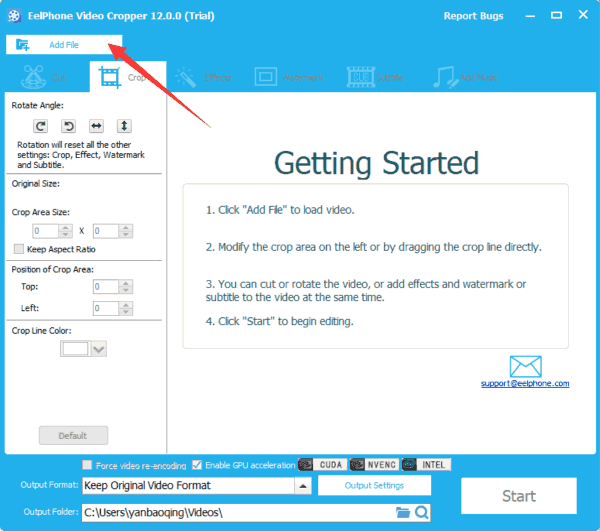 Step 4:
Then you can use your mouse to change the crop area size of the video, and even the crop line colour is up to you.
Step 5:
Once cropped videos, set up the output format of cropped videos, select the format you need, for mobile or for video players. And define the save folder of cropped videos, so that you can locate it easily, and drag cropped videos to a mobile device or another video player directly.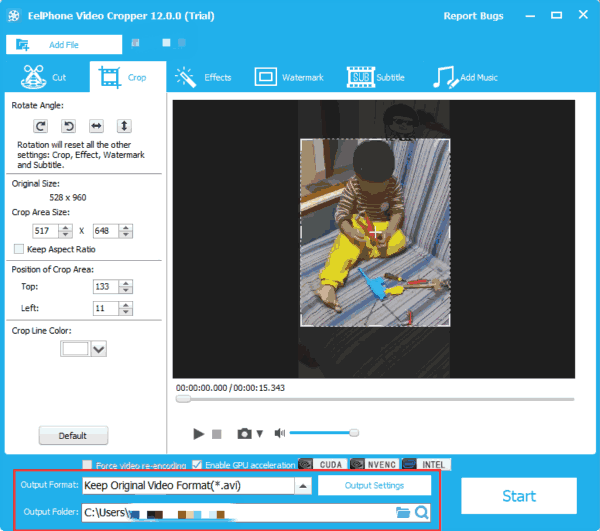 Note:
In fact, it's also on video converter, all common and special video format you can get from output settings.
Step 6:
Click on
Start
button to crop videos and save it to the folder with the format you have defined.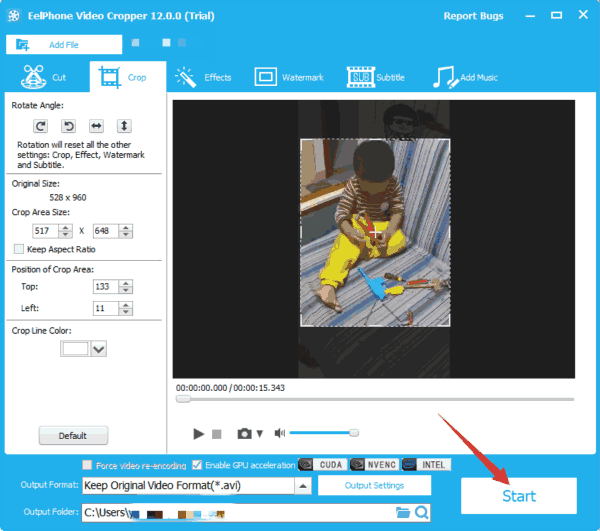 Crop and download Youtube/Instagram video to computer, smaller crop video size make it smaller and save more space, and you can edit videos further on the video editor using other feathers on home page of EelPhone Video Editor.
Part 2: How to Crop a Video in Movie Maker
EelPhone Video Editor, without limit of computer version, and workable for all video format, what's more important, it's easy and no need of skill. Some users would like to use crop video windows movie maker, free tool to crop videos, but it works only on windows, and not all video formats can be cropped on movie maker.
Step 1:
Launch the movie maker on windows, and then load the video to the movie maker. But the input video files must contain codecs supported by Windows 10 UWP.
Step 2:
You can load the video one by one, and if the video can't be imported to the movie maker, it means that the video format can't work in the movie maker. Go to animations to crop videos.
Crop dusting videos with the editor with ease, download cropped YouTube/Instagram video to computer or mobile device you want.
Alex Scott
This article was updated on 29 December, 2020

Likes

Thank you for your feedback!