Summary
How to get rid of spam texts on iPhone? Filter the spam texts together and hide them. Of course, you can put the number into the blacklist so that all texts from the blacklist will be saved together. But in the big information society, how can you stop getting spam texts iPhone? Unless you didn't use the phone number on any app or online registration.
Part 1: Why You Have Received so Many Spam Texts?
You keep getting spam texts iPhone without knowing the senders. Why do you get random texts on iPhone? It's time to have a recall:
Share your phone number with someone
At a party or in a meeting, you've shared your phone number to your business partner or "new friends" that you can't refuse. The spam texts from them is disturbing. But for work or for relationship, how can we refuse to share the phone number?
Fill in information with phone number
You've been shopped on the street for the questionnaire, you should fill in some personal information including your phone number. Maybe for the small gift, you've filled in the exact phone number. In fact, it's your personal information, don't share it with others casually. You can provide the wrong number and incorrect personal information.
But for information collection like the bank, you should provide your exact personal information including phone number to receive the verification code. At the same time, you'll also receive some texts for product promotions.
Apps that need to extract your information
Almost all apps and applets would extract your phone number automatically, you should agree the information extraction if you want to use the app or applets.
The information world makes all of us nearly transparent, your personal information will be recorded in the internet memory. Your phone number will be known by more people. More you've used your phone number in the internet market, the more spam texts you'll receive.
Part 2: How to Stop Spam Messages on iPhone
How to stop spam text messages on iPhone? The best and the most effective way is stop to use your phone number to link any apps and accounts. Less social activities, less spam text messages. You can use the phone number just for contacting your friend on list. Don't share your phone number to anyone you don't know. For a quiet relationship environment, you should give up more social activities which need extract phone number.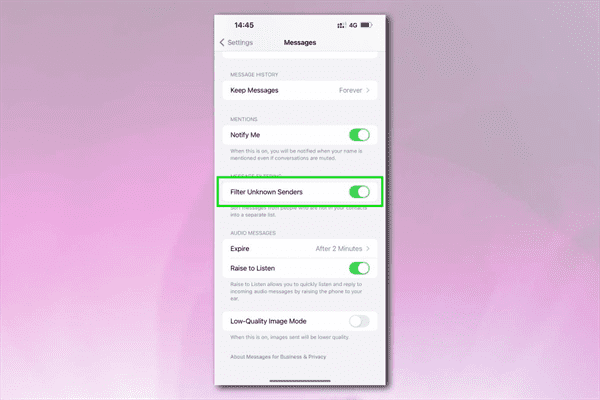 Part 3: How to Block Spam Texts iPhone
For unwanted texts on iPhone, you can block it and filter unwanted texts together. Follow the steps below to block spam texts iPhone.
How to filter spam texts on iPhone
From iPhone settings, you can filter texts from unknown senders. All texts out of your contacts list will be filtered together when you enabled this feature.
Go to iPhone settings, slide to the Messages feature.
Enable "Filter Unknown Senders" feature from the interface.
When you enabled this feature, turn back to iPhone message app and open it.
You'll notice that all your messages are sort into three: All Messages/Known Senders/Unknown Senders.
When you want to stop unwanted text messages on iPhone, see only the messages from known senders.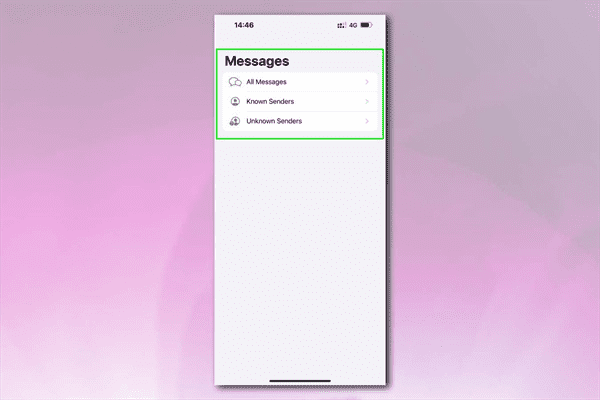 When you enabled the "Filter Unknown Senders" feature, you'll even don't the coming of unknown texts. You should switch to the Unknown Senders to preview all unwanted texts.
Part 3: How to Hide Unwanted Texts on iPhone Notification
Like bank verification code, when you filter it to unknown senders, you'll bypass it and get some trouble to verify your information. You can just hide texts from unknown senders on iPhone notifications. Go to iPhone settings app.
From first interface, switch to the Notifications.
On the top of the Notifications, there are three types of texts showing: Lock Screen/Notifications Center/Banners, select the notifications showing type and then on the bottom of the interface, tap on Customise Notifications, disable the notifications from unknown senders. No popping of the texts notifications on iPhone when you enable the filtre unknown senders from iPhone settings.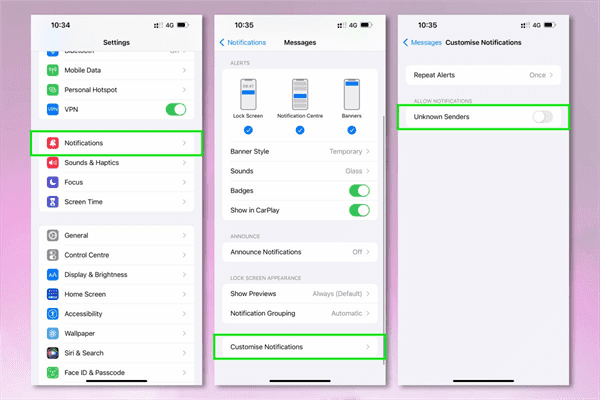 Actually, you can't stop getting spam texts on iPhone if someone have your phone number and exactly they would like to send some spam texts to make a advertisement.
Getting spam texts on iPhone makes us irritating, to get rid of spam text on iPhone, you can block random texts on iPhone together, then you can ignore the spam texts on iPhone.
For personal phone number, if you don't want to spam text messages on iPhone, don't reveal your phone number to strangers or someone you don't want to contact. More friends in the contact list, more spam texts you'll receive.

Likes

Thank you for your feedback!