Summary
Why can't I open any Apps on my iPhone? It's not complex to find out the cause of the issue, and you'll also have several ways to fix iPhone Apps won't open problem. Follow the tips one by one or according the cause of the issue, locate the most effective way to fix Apps won't open on iPhone.
iPhone has many built-in Apps that we can't uninstall. We'll also download some Apps like game Apps/social Apps to contact with more friends in a different way/official Apps to make it easy to deal with work documents/video or phone edition Apps to edit media data on iPhone with ease, etc. Some users even have tens of Apps on one iPhone.
In the case that iPhone Apps are not opening, or all Apps not opening on iPhone, your iPhone is nearly useless, you'd better find out the cause of the problem and then choose the best way to fix App won't open on iPhone issue from this article.
Part 1: Why Can't I Open My Apps on My iPhone
It's only one App that not opening on iPhone or it's all Apps on iPhone not opening? There are many causes of the iPhone not opening Apps. You'll find out the cause of the issue from this part.
App Not Being Downloaded Completely
You've just located one App from App store, and tap on the Download icon to download the App from App store.
It takes one or more minutes to download one App according to the size of the App. Please be patient during the downloading process.
When you re-back to iPhone home interface to open the App you've just downloaded, you should wait and tap on the App when the App was downloaded on iPhone completely.
You'll agree with the Regulations and allow the App gets the authority to obtain some information like contacts and location service.
No Network Connection
You've un-linked network on iPhone, almost all Apps on iPhone run with stable and strong network. When you can't open Apps on iPhone, check the network on iPhone, connect to stable and strong network and open the App on iPhone again.
No Enough Storage Space
Apart from strong and stable network, App also needs enough storage space to run well and fluently. iPhone storage is nearly full or when iPhone keeps frozen, you can't open any Apps on iPhone.
iPhone Frozen
In fact, when iPhone frozen, not only that you can't open Apps on iPhone, you can't use all features on iPhone either. You should fix frozen iPhone at first, then you can open Apps on iPhone as usual.
The App Conflicts with Other Apps
Not all Apps can run on iPhone, especially when you didn't download and install the App from App store, the App may conflict with other Apps on iPhone.
iPhone won't open Apps, you can't use Apps on iPhone normally, when you knew that why can't i open Apps on my iPhone, turn to the second part to use the effective method to fix Apps won't open on iPhone.
Part 2: How to Fix iPhone Won't Open Apps
You can't open Apps iPhone, follow the tips below one by one to fix this issue or use the effective tip according to the cause of the issue.
Tip 1: Restart iPhone
" My iPhone won't open any Apps, all Apps on iPhone are useless for me."
Restarting iPhone is one common tip to fix almost iPhone issues. It's also the first tip you should try. In the case that Apps won't open iPhone, make use of the power button to power it off and then power it on.
When iPhone reboots, switch to the App you want to use, tap on it to open it.
Tip 2: Uninstall App
When there is only one App that not opening on iPhone, you can also uninstall it from iPhone and then download and install it on iPhone from App store.
Tip 3: Search One Replaceable App
When you can't open an App on iPhone rather than all, after reinstalling, the App not opening either. Considering another akin App from App store which has the same features you're searching. In App market, there no longer have the App that is irreplacable, especially for hot Apps, you'll find out many replaceable Apps from App store. When iPhone not opening an App, turn to another one.
Tip 4: Free up iPhone Storage Space
iPhone storage space is nearly full, not only Apps on iPhone, iPhone will keep freezing or crashing. iPhone even doesn't have enough space to run ios system. Uninstall useless Apps from iPhone and clean up safari history, for so many media data on iPhone, backup photos and videos to iCloud or computer before erasing.
To run iPhone fluently, it's necessary to keep enough storage space of iPhone. It's important to use iPhone for longer.
Tip 5: Update App Version
Especially when there is one available App version, when iPhone Apps don't work, updating to the latest App version is another effective tip.
Go to App store, on the bottom of the interface, switch to all Apps you've downloaded on iPhone. When there is one new App version, on the back of the App, you'll see one Update button, tap on it to update App to the latest version.
Tip 6: Update iPhone Software
iPhone won't open any Apps, not only one App, there is one tip you should check-iPhone software. Go to iPhone
Settings>General>Software Update
, when Apple released one new software version, tap on Download and Install button on the interface to update iPhone software to the newest one. When there is no new software version, you can use
EelPhone OSFixit
to update or downgrade iPhone software without losing data.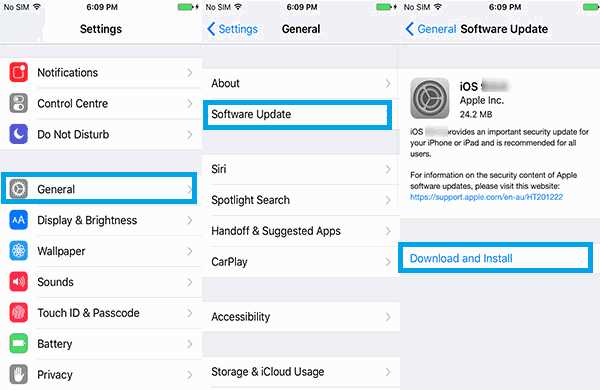 Tip 7: Reset iPhone
After all tips above, App doesn't open iPhone either. For iPhone system problem, when you can reach iPhone settings interface, make use of iPhone settings to reset iPhone-erase all data and settings on iPhone.
Go to
Settings>General>Reset>Erase All Data and Settings
. It's easy for iPhone users to reset iPhone from settings. But when iPhone frozen, you can't access iPhone settings anymore, turn to EelPhone OSFixit to restore frozen iPhone. The standard mode of OSFixit will fix iPhone system issues without losing data.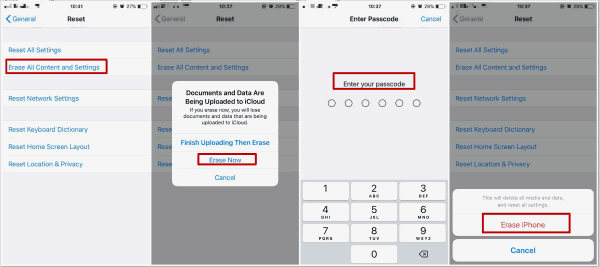 For all 7 tips above, the last one will erase all data on iPhone, so you should backup iPhone in advance, apart from iCloud,
EelPhone iPhone Transfer
is one easy App to move almost all data from iPhone to computer with one click. Corresponding the cause of the Apps won't open iPhone issue, find out the best way from the second part to fix it in the shortest time.

Likes

Thank you for your feedback!