What to Do When Your iPhone Keeps Freezing-EelPhone Works

Alex Scott,
11 May, 2020
Summary
iPhone screen keeps freezing, why does my iPhone keep freezing? Many possibilities for the causing, and if iPhone keeps freezing, force restart it in the first of all, if can't fix iPhone x keeps freezing, factory reset iPhone from settings if we can access settings on iPhone, but the best method is EelPhone OSFixit, which will fix iPhone keeps freezing without data loss, and the whole process takes only clicks, easy and quick.
" After I download one game app, my iPhone XR keeps freezing, even I uninstalled the game app from iPhone. Why does my iPhone XR keep freezing? It's the problem of the game app? What can I do now? Can I fix it?"
One helper from one forum, and for Apple users, same problem as we entered, so confused for it, and also at a loss. It's different from iPhone freezing when iPhone keeps freezing, we can enter some feathers in iPhone, so factory reset iPhone to restore iPhone to factory settings may be one workable way to solve the problem, but we should know that, factory reset iPhone will erase all data and settings on iPhone, it's terrible if we didn't backup iPhone data in advance.
EelPhone OSFixit, the professional fixer for iOS system problems, the most important and attractive, without data loss after the fixing process, and with the detailed guide from fixer, it's easier. Get the tips to fix iPhone keeps freezing.
Part 1: Why Does My iPhone Keep Freezing
iPhone keeps freezing is different from iPhone frozen, but why does iPhone keep freezing is totally similar, Apple users could avoid this ios system issue from the problem source.
iOS System Update
When new ios system version was released, apple users are forced to update ios version to the latest one by popping the notice every time when they unlocked iDevice screen lock, or even update to the latest ios version automatically. But new ios version may make iDevice keeps freezing or even keeps updating. It's the problem of new ios version, or the new ios version can't match to one app on iDevice that apple users already downloaded and installed.
Hardware Damage
The hardware in iDevice is too old to work, and usually stuck in ios system problems, EelPhone OSFixit works, but you will encounter the ios system problem again in a few time. Get one new to replace it!
Wrong Operation
Two reasons above are inevitable, but some reasons are in our control.
Work so many apps at one time, limited storage space on iDevice make it difficult to work so many apps at one time, or will make iPhone frozen or keeps freezing. Clear iPhone storage space regularly, delete useless photos/videos/apps on iPhone.
Aggressive APP
Don't download and install the unknown app, not only for iPhone users but for other cell phone users, prevent iPhone from being attacked by the unknown app, download and install the safe and famous app on iPhone, if iPhone keeps freezing was due to the wrong app, uninstall it when you can access iPhone even when iPhone keeps freezing.
Or other possibilities when iPhone keeps freezing, fix it at once, get the solution from below.
Part 2: How to Fix iPhone Keeps Freezing Without Data Loss
EelPhone OSFixit
, fix iPhone keeps freezing without losing data and the easy operation during the whole process are two most important reasons for iPhone users choose it rather than free tips.
Step 1:
Download and install EelPhone OSFixit on the computer, link iPhone to OSFixit via USB cable, from three feathers on EelPhone OSFixit, click on
Standard Mode
to fix iPhone keeps freezing without any data loss.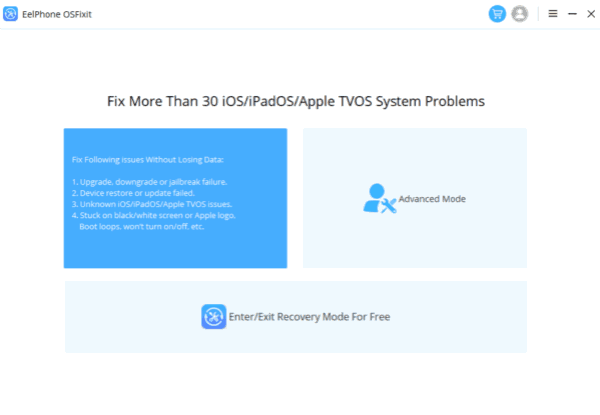 Step 2:
Check and confirm the iPhone model information, EelPhone OSFixit will download iPSW data package to fix iPhone keeps freezing issue, so make sure that you have choose the correct model information.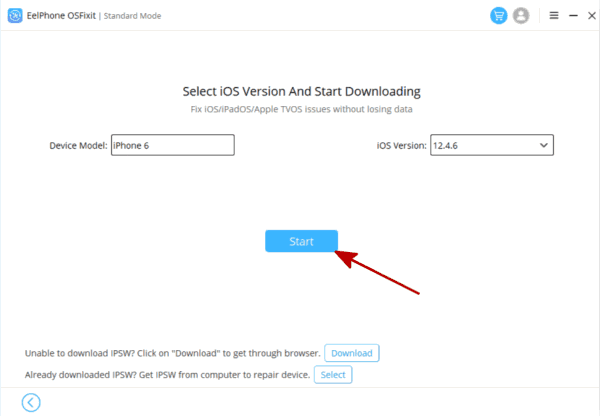 Note:
Mostly, iPhone can be linked to OSFixit automatically, but in the case that the tool can't scan out model version, follow the guide to put iPhone into the mode which can force link iPhone to the tool.
Step 3:
Keep connecting when OSFixit was downloading and unpacking iPSW data package, once iPSW data package was unpacked, click on
Repair Now
to fix iPhone keeps freezing.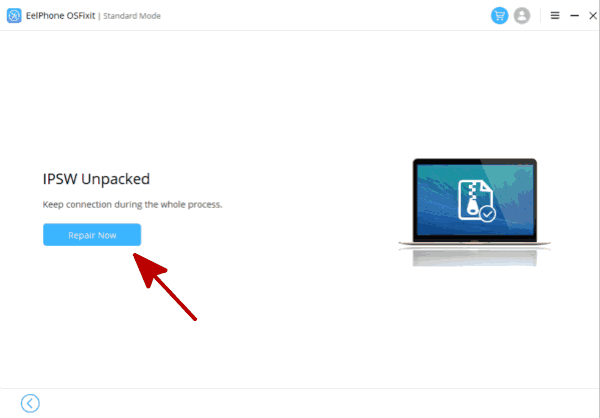 With three clicks when we choose the standard mode to fix iPhone keeps freezing issue, without any data loss after the process, use the iPhone as usual when the process finishes.
Part 3: Free Tips to Fix iPhone Keeps Freezing
Different from other iOS system problems, iPhone keeps freezing make iPhone users have chance to access settings on iPhone or link iPhone to iTunes, in the time iPhone screen was in normal, and we have time to access settings on iPhone, fix iPhone keeps freezing for free but losing data, unfortunately.
Go to
Settings>General>Reset>Erase All Data and Setting
s, enter password to confirm the factory reset of iPhone. It may work to fix iPhone keeps freezing, and wait when iPhone restore to factory reset.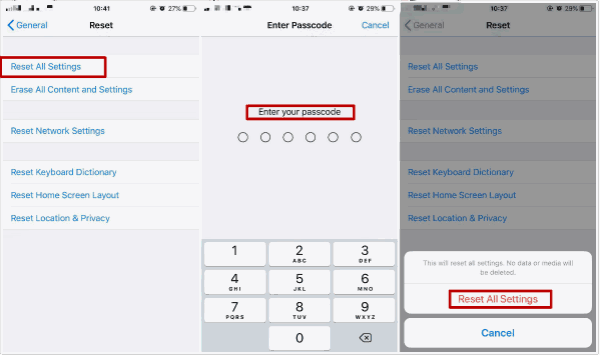 Restore iPhone from iTunes works in some times when iPhone users can link iPhone to iTunes once plugged iPhone to computer via USB cable.
We're asked to trust computer and enter password to link iPhone to iTunes, enough time is necessary to link iPhone to iTunes. Click on Restore iPhone to factory reset, all data on iPhone will be erased then after the restoration process. It's difficult to link iPhone to iTunes either.

iPhone owner prefer to fix iPhone keeps freezing, also prefer to keep iPhone data at the same time. The best method is still EelPhone OSFixit as mentioned above.
Alex Scott
This article was updated on 25 May, 2020

Likes

Thank you for your feedback!